FATHER'S DAY BRUNCH
Serve Up the Perfect Father's Day Brunch With Renowned Chef Jim Coleman's Delicious Dish For Dad:
'Savory Waffles' for Dad with Cremini Mushrooms and 'Anyway He Likes Them' Eggs
(Recipe & photo below)
Acknowledge dad's special day with lots of love and a gift that goes straight to his palette, a delicious breakfast/brunch using "Flavors of America" TV Chef and Cookbook Author Jim Coleman's 'Savory Waffles For Dad with Cremini Mushrooms' and 'Anyway He Likes Them' Eggs recipe. Use poached, soft, medium or hard boiled eggs for the recipe, depending on how dad prefers them. However you serve up this dish, it's a gourmand's delight and a novice's treasure because it's so quick and easy to make but tastes like it comes from a top professional kitchen. Dad will know he's loved with this dish!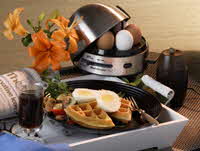 Inspired by the Chef'sChoice® Gourmet Egg Cooker Model 810, Chef Coleman created this wonderful dish to share with beloved fathers everywhere. It's a recipe that can be included in your culinary repertoire anytime…you just might want to give a copy of the recipe to dad.

RECIPE
Savory Waffles for Dad with Cremini Mushrooms
- and 'Anyway He Likes Them' Eggs:
Serves 4.

Ingredients For Waffles
• 2 cups all-purpose flour
• 1 TBS sugar
• 2 tsp baking powder
• ½ tsp salt
• ¼ tsp freshly ground pepper
• 4 TBS unsalted butter, melted
• 1 TBS finely chopped rosemary
• 3 large eggs
• 2 cups buttermilk
• 2 TBS extra-virgin olive oil
• 2 TBS sherry or sherry cooking wine
• 1 ½ lbs Cremini or white mushrooms, sliced thick
• ¼ cup chopped flat-leaf parsley
• Salt and freshly ground pepper to taste

Egg Topping:
• 8 large eggs for poaching or serving soft, medium or hard boiled.

Instructions
Prepare waffle batter: In medium bowl, whisk flour with sugar, baking powder, salt and pepper. In another bowl, combine butter and Rosemary, then whisk in buttermilk and eggs. Gradually stir wet ingredients into flour mixture. Set aside, covered.
Make the topping: In large skillet, heat olive oil. Add mushrooms, sherry and parsley then season with salt and pepper. Cover and simmer for five minutes over moderately high heat. Keep warm.
Make the waffles, following manufacturer's directions. Immediately after each waffle is baked, place it directly on the upper rack of a warmed oven.
Make the eggs how dad prefers them.
Assemble the dish: Place two waffle sections each on four warmed plates. Arrange two eggs on top of the sections and spoon the mushroom mixture on either side. Garnish with fresh parsley or rosemary and red pepper or tomato slices. Serve the remaining waffles and mushroom mixture separately.

The best part about this recipe is that there is plenty to share! Enjoy!

The Philadelphia-based Chef Jim Coleman hosts "A Chef's Table", a live weekly radio show broadcast on WHYY 91 FM and throughout the country over National Public Radio. Coleman's "Flavors of America" show airs in ­­­50 million homes across the country. He has published two cookbooks: "Flavors of America" and "The Rittenhouse Cookbook."

The Chef'sChoice® International Gourmet Egg Cooker automatically prepares up to 7 eggs. Eggs in the same batch can be combined to cook some soft, others medium or hard boiled! Features include brushed stainless and easy clean design, electronic timer with audible ready signal, convenient lift-out egg tray, poacher and large water reservoir for multiple cooking cycles. MSRP $39.99.

Headquartered in Avondale, PA, Edgecraft Corporation markets in 50 countries around the world under the Chef's Choice® brand and manufactures high-quality cutlery, food slicers, waffle makers and mixes and hot beverage products as well as the gourmet egg cooker and the most technologically advanced sharpeners on the market. www.edgecraft.com