Trendy Meets Traditional At The Reception
by Kimberly Cantara-Waitt, Boston's Director of Special Event Sales
Something old, something new, something borrowed, something blue. Wedding ceremonies have always been a union of the traditional and the contemporary, and these days the fusion can extend to the time-honored reception as well.

Hotel ballrooms have always been popular reception venues, but what about a more non-traditional locale in which to celebrate? A botanical garden or historic buildings are unique and beautiful alternatives. For example, how about a wedding reception held at the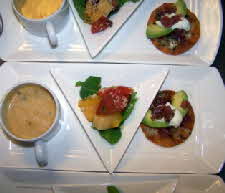 historic Boston Public Library? This spectacular space-with open-air courtyard and magnificent interior rooms-is the embodiment of elegance. And high ceilings and austere library furniture don't have to limit one's aesthetics; a little creativity with floral design and colorful linens can easily transform this classic site from something out of a 19th century novel to something as cosmopolitan as a 21st century romantic film.

Choice of menu is yet another way to set an event apart. There's no doubt that rumaki and stuffed mushroom caps will continue to favor many reception menus this wedding season, but it certainly doesn't have to end there. The only limits on how to stage a reception today are the bounds of one's own imagination.

A great way to indulge the imagination is with what I like to call "mini meals," or "small plates," from appetizers all the way through dessert. This trend toward the petite allows guests the freedom to taste absolutely everything from the tuna tartar to the pan-seared beef without feeling guilty or committed to a single dish.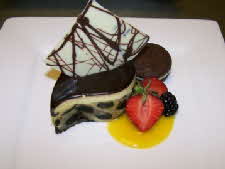 Portable foods served in enticing vessels are a superb way to present guests with tasty fare, whether it's passed as an hors d'ouvre or served as part of a first course at a seated dinner. Consider, for instance, soups in "shooter" glasses or in demitasse cups. Or a lobster salad presented in a shot glass with a cocktail folk. Or traditional hors d'oeuvres - like your crab cakes or stuffed mushrooms - placed delicately on an Asian soup spoon.

Martini glasses can double as a new way to serve desserts, such as layers of dark, milk and white chocolate mousse or as a unique presentation for a "Sushi-tini" or an individual crudité.

Even a delight as seemingly pedestrian as macaroni and cheese or a chicken pot pie can take on special allure and even a hint of sophistication when served in small ramekins or demitasse cups.

Another way to add interest to traditional fare is to stage chef-manned stations, where servers present made-to-order hors d'oeuvres - from crab cakes to a risotto to an individually prepared noodle dish.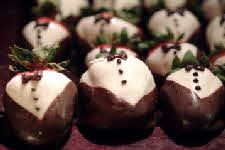 Traditional tiered wedding cakes are a staple of the wedding reception. But we're also seeing greater interest in alternative confections, such as tiny tiramisu or bite-size cheesecake or even individual cupcakes. Assorted tray-passed sweets, such as a trio of chocolates, is another trendy way to satisfy one's sweet tooth without stretching the waistline.

The groom's cake, a tradition from the Deep South, also is making a comeback. Traditionally, this cake was sliced and sent home with the unmarried girls attending a wedding to put under their pillows in hopes of marrying the man of their dreams. Today it's intended more as way of expressing the groom's personality and interests. Consider a decadent chocolate cake with ganache for the groom to complement a lemon génoise tiered cake for the bride.

Weddings and receptions in this new century are becoming more customized and more reflective of the bride and groom's personal style and individual tastes. Those of us who stage these special events continually find ourselves challenged on the one hand and stimulated on the other to help make these celebrations the more personal and more memorable for all involved. At Sebastians, we always strive to cater to the imagination, creating delicious, fun and memorable events time and time again.

Kimberly Cantara-Waitt is Boston's Director of Special Event Sales for Sebastians, a café, catering, special events and corporate dining company.