Shuck Tradition: Stuff the Bird with London Lennies Oyster Stuffing
London Lennies Offers Shuck and Bake Recipe for Thanksgiving
Recipe Below
(London Lennies, Rego Park, New York) Instead of cooking your turkey with traditional stuffing this Thanksgiving feast, trick your guests' taste buds with London Lennies Shuck and Bake Oyster Stuffing. As the leading experts in fish and seafood, London Lennies Shuck and Bake Oyster Stuffing recipe will guarantee to make your bird memorable.

WHY: We are sure your bird and family is sick of getting "stuffed" with the boring traditional stuffing recipe! Shuck and Bake this year with London Lennies easy to follow oyster stuffing recipe.

WHEN: London Lennies Shuck and Bake Oyster Stuffing will be available as a side dish at London Lennies from November 9 – 25, 2009 for $12.00.
London Lennies is CLOSED on Thanksgiving Day.

London Lennies Shuck and Bake Oyster Stuffing Recipe
INGREDIENTS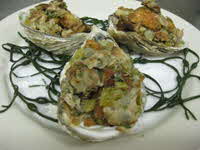 • 1lb cubed bread, including crust
• 1 pint fresh raw oysters
• 4-8 tablespoons of butter
• 1 cup finely chopped celery
• 2 cup of chopped onions
• ½ cup of minced fresh parsley
• 1 teaspoon minced oregano
• 1 tablespoon minced sage
• 1 tablespoon minced thyme
• ¾ teaspoon salt
• ½ teaspoon ground black pepper
• ¼ freshly grated nutmeg
• 1 cup oyster juice from the freshly opened oysters (oyster broth)
• 2 eggs, well beaten (optional)

DIRECTIONS
1. Preheat oven to 400F. Toast bread until golden brown on middle rack. Put bread pieces in bowl.

2. Meanwhile, heat butter until melted and foam subsides. Add onions and celery and cook until tender. (5mins) Remove from heat and stir in spices.

3. Add bread crumbs and drained oysters. Toss well until stuffing is moist (but not packed together) and stir in eggs (optional).

4. Stuff into the turkey while moist.

* If cooked in casserole dish place in 350F oven for 25-40minutes, or until heated through to form crust on the outsides.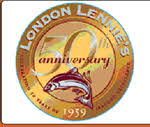 About London Lennies
As the leading experts in fish and seafood, London Lennies Restaurant, has been owned and operated by the Barnes Family since 1959. This spring, London Lennies will be celebrating its 50th anniversary. The seafood eatery has evolved from a quintessential fish n' chips shop to Queens' award winning premier seafood restaurant. Fresh local seafood is selected daily at the world-famous Fulton Fish Market, and prepared by nationally recognized Executive Chef Jeffrey Baruch. With over 31 years of culinary experience, Chef Baruch has traveled across the country serving as executive chef at restaurants spanning from Colorado to New York and has owned and operated four of his own dining establishments. Chef Baruch has been featured in Restaurant Business, Martha Stewart Radio, Zagat.com and Food Network's Iron Chef and Chopped! For more information please visit www.londonlennies.com