Mark Webster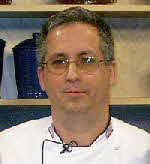 Executive Chef Mark Webster attended classes at The Philadelphia Restaurant School, Johnson and Wales Culinary University in Charleston, SC, the Southeast Institute of Culinary Arts in St. Augustine, FL and both campuses of the Culinary Institute of America. He has also earned a BS in Business Management graduating Magna Cum Laude. Mark is certified through the American Culinary Federation (ACF) as both an Executive Chef and Culinary Educator.
• Executive Chef Mark Webster CEC, CCE received the 2008-2009 Chef of the Year Award from the Greater Kansas City Chefs Association (GKCCA).
• In 2008 Chef Mark was awarded a Presidential Medallion from Certified Master (CMC) Chef John Kinsella, President of the American Culinary Federation.
• Member of the World Association of Chefs Societies.
• Member of the National Ice Carvers Association (NICA).
• Inducted into the American Academy of Chefs (AAC) 2010.
• Won the 2011 Chef Professionalism Award for the Central Region of the American Culinary Federation.
• In 2015 Inducted into the Honorable Order of the Golden a Toque.
• 2015 Received 2nd Presidential Medallion from Chef Thomas Macrina CEC,AAC,HGT.
• 2018 Received the Lt. General John D. McLaughlin for outstanding achievement and service to the profession from the American Academy of Chefs.
He has received Medals and Letters of Commendation for his superior culinary skills while preparing numerous Diplomatic Dinners. He was also interviewed at Camp David, in Thurmont Maryland.

Chef Mark loves dining out and traveling to discover new tastes and new ideas. His culinary travels have taken him around the globe visiting over 35 countries in his travels living in several. He is well versed in both International and U.S. Regional cuisine.