GRAPES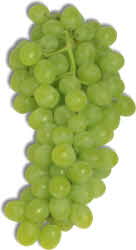 Grapes do not continue to ripen after they have been picked.

The easiest and best way to pick the freshest grapes in your local market is to hole a bunch by the stem. Shake gently - if grapes drop off the stem, they have been in storage for too long. If the grapes are firmly attached, are plump and bright, they are fresh.

Store grapes in the coldest part of the refrigerator in a plastic bag. Wash them well before serving, but NOT before putting them in the refrigerator.
They're the original fast food so pack them before you leave home in your lunch or as a snack. Add grapes to any meal as a side dish, especially chicken. Eat grapes as a midmorning or midday snack. Freeze grapes and eat straight from the freezer.

No time to make a fancy dessert? Serve clusters of chilled grapes on a platter with several types of cheese. Let guests serve themselves.

A breakfast that's guaranteed to wake up slow starters…heap light green honeydew melon halves with luscious red grapes and top with yogurt. A toasted muffin makes this quick meal a nutritious morning starter.

For a delicious one-course summer dinner, add chilled grapes to your favorite pasta, chicken or seafood salad. Serve with crusty bread or roll.
Most table grapes available in food stores are of the European type, grown principally in California and Arizona. Only small quantities of Eastern-grown American-type grapes are sold for table use.

European types are firm-fleshed and generally have high sugar content. Common varieties are Thompson seedless (an early, green grape), Red seedless (an early, red grape), Tokay and Cardinal (early, bright-red, seeded grapes), and Emperor (late, deep-red, seeded grapes). These all have excellent flavor when well-matured.

American-type grapes have softer flesh and are juicier than European types. The outstanding variety for flavor is the Concord, which is blue-black when fully matured. Delaware and Catawba are also popular.
Look for: Well-colored, plump grapes that are firmly attached to the stem. White or green grapes are sweetest when the color has a yellowish cast or straw color, with a tinge of amber. Red varieties are better when good red predominates on all or most of the berries. Bunches are more likely to hold together if the stems are predominantly green and pliable.

Avoid: Soft or wrinkled grapes, or bunches of grapes with stems that are brown and brittle; these are the effects of freezing or drying. Also avoid grapes with bleached areas around the stem ends (indicating injury and poor quality), and leaking berries (a sign of decay).