See Also Articles: Ginger; Ginger Field Report, India
GINGER
(Zingiber officinale)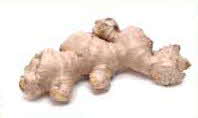 The flavor of Ginger is characterized by its unique combination of lemon/citrus, soapy and musty/earthy flavor notes. It is warming to taste.

The powdered, dried form of ginger has a more spicy, intense flavor and is often used in baking (gingerbread, gingersnaps, ginger cookies).
1 lb fresh ginger = about 2 2/3 cups chopped
1 lb ground ginger = 5 cups
1 ounce = 5 Tablespoons
Ginger is supposedly more effective than Dramamine in combating motion sickness.

Selection and Storage:
Ginger is available year-round. When selecting gingerroot, choose robust firm roots with a spicy fragrance and smooth skin. Gingerroot should not be cracked or withered. It can be stored tightly wrapped in a paper towel or plastic wrap (or put into a plastic bag) in the refrigerator for 2–3 weeks and like galangal, gingerroot can also be placed in a jar of sherry and refrigerated for 3–6 months.

Preparation:
Peel skin from the root and gently peel the skin beneath (that closest to the root is the most flavorful). Gingerroot can be sliced or minced (minced gingerroot gives the most pungent flavor). Ginger is popular in Asian cuisine where it is used both fresh and dried. Ginger can also be found crystallized, candied, preserved and pickled.