sEE ALSO: What Causes Garlic to Turn Blue?
GARLIC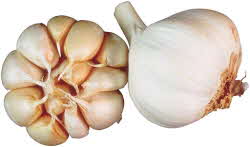 1 medium garlic clove = 1/2 tsp finely chopped.

When you use a garlic press or crush the garlic cloves, you get a stronger flavor than when you mince it fine with a knife. This is only noticeable when using the garlic raw

The easiest way to peel a garlic clove is to place it on a cutting board and give it a good whack with the flat side of a large chefs knife or cleaver. The garlic clove will now slip easily out of the skin.

Garlic can be used as a pest repellent to repell aphids.

Small bulbs of garlic can be as much as 20 times as strong as larger bulbs.
Garlic In Oil:
Research performed by the National Center for Home Food Preservation confirmed that mixtures of garlic in oil stored at room temperature are at risk for the development of botulism.

Garlic-in-oil should be made fresh and stored in the refrigerator at 40°F or lower for no more than 7 days. It may be frozen for long term storage for up to several months. Package in glass freezer jars or plastic freezer boxes, leaving ½-inch headspace. Label, date and freeze.
Cooking Garlic
Cooking garlic decreases the strength of its flavor making it much milder. The longer it is cooked, the more mild it tastes. Be careful not to sauté garlic too long at too high a temperature, it will brown very quickly and can become bitter.

To bake garlic, place whole, unpeeled bulbs rounded side down in a shallow baking dish, drizzle with oil, cover with foil and bake for 1 1/2 hours at 325ºF

Use Garlic to ---
• Flavor soups and stews.
• Roast with meats or poultry.
• Chop finely for salad dressings.
• Bake whole heads until softened; pop out soft flesh from cloves and spread on bread.
• Put minced garlic on a loaf of bread to make an authentic tasting garlic bread!

Availability, Selection, and Storage
Garlic is available year-round frozen or fresh. When buying fresh garlic, choose from plump, dry heads that feel firm. Avoid soft, mushy or shriveled cloves. American garlic should be white to off-white. Garlic should be stored in a cool, dark place (though not a refrigerator) and can be kept for several weeks. Many people use small clay garlic holders to keep their garlic as fresh as possible. Cloves that have sprouted can still be used but they will not be as strong in flavor as fresher cloves. The sprouts themselves can be cut up like scallions and chives and used in dishes.
Preparation
To remove individual garlic cloves, peel outer layers from the bulb and snap out each clove from the base. Cloves can than be peeled very easily. For a more mild flavor, whole cloves can be added (unpeeled for an even more subtle taste) to food while it cooks or marinates and than discarded before serving the meal. Another trick for imparting a mild garlic flavor in your dish is to spear a garlic clove with a fork and stir your dish with it — discarding the garlic when stirring is complete.

For a stronger flavor, used chopped, crushed, pressed or pureed garlic in dishes. The more finely garlic is chopped, the stronger its flavor will be. To chop garlic, cut in half lengthwise (remove the green core if there is one — it is bitter). Make several lengthwise cuts and than cut crosswise. A garlic press can be used also though these can be a bit tricky to clean.

To remove garlic odor from hands, use salt or lemon juice and than wash your hands with soap