See also: Egg Whites; Egg Yolks; Freezing Eggs; Quotes
Boiled Eggs; Easter Eggs; Eggs Benedict; Facts & Trivia
EGGS
Eggs will age more in one day at room temperature than in one week in the refrigerator.

The average weight of a hen's egg is 2 oz. The shell is about 12% of the total weight, the egg white 58% and the yolk 30%.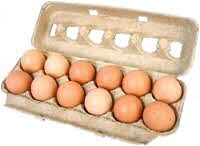 The color of chicken eggs are determined by the breed. Breeds with white feathers and ear lobes lay white eggs; breeds with red feathers and ear lobes lay brown eggs.

Brown eggs have thicker shells, which makes them great for boiled eggs - they don't crack as easily.

Buy white eggs and brown eggs alternately, and you will always which eggs in the refrigerator are the oldest.
When you are going to beat egg whites, let the eggs sit at room temperature for half an hour before using them. You'll get more volume when you beat them.

Fresh eggs are better when poached or fried - the fresher the egg, the better it will hold its shape.

Hard cook eggs that are at least a week old, you'll find them easier to peel after cooking and cooling than fresher eggs.

Always use eggs right from the refrigerator for poaching, they are less likely to spread out, and the yolks are less likely to break.

To test eggs for freshness, place the egg in a cup of water to which two teaspoonfuls of salt has been added. A fresh egg sinks; a doubter will float.

The CDC (Centers for Disease Control), reports that something less than 1/2% of all foodborne illness is related to eggs. According to the USDA, only one egg in 20,000 might be contaminated with Salmonella. Based on the USDA statistics, that means that the average person might eat a contaminated egg once in 84 years.

EGG MEASUREMENTS
4 jumbo eggs = 1 cup
6 jumbo whites = 1 cup
12 jumbo yolks = 1 cup

4 Ex Lg eggs = 1 cup
6 Ex Lg whites = 1 cup
12 Ex Lg yolks = 1 cup

5 Lg eggs = 1 cup
7 Lg whites = 1 cup
14 Lg yolks = 1 cup

5 Med eggs = 1 cup
8 Med whites = 1 cup
16 Med yolks = 1 cup

6 Sm eggs = 1 cup
9 Sm whites = 1 cup
18 Sm yolks = 1 cup

EGG SAFETY
(Compiled from the FDA Consumer - latest revision, July 2002)

Salmonella Enteritidis is a bacterium that can be inside shell eggs. Cooking the egg or egg-containing food product to an internal temperature of at least 160 F (71 C) kills the bacteria. Refrigerating will not kill the bacteria.

Other foods containing raw eggs, such as homemade ice cream, cake batter, mayonnaise, and eggnog, carry a Salmonella risk too. Their commercial counterparts are usually made with pasteurized eggs; that is, eggs that have been heated sufficiently to kill bacteria, and also may contain an acidifying agent that kills the bacteria. But the best practice, even when using products containing pasteurized eggs, is to eat the foods only as they are intended to be eaten. Do not sample unbaked store-bought cookie dough.

Consider using pasteurized eggs for homemade recipes that do not include a cooking step, such as eggnog or Caesar salad dressing. Pasteurized eggs are usually sold in the grocer's refrigerated dairy case.

Some other tips to ensure egg safety:
Buy only refrigerated eggs, and keep them refrigerated until you are ready to cook and serve them.

Cook eggs thoroughly until both the yolk and white are firm, not runny, and scramble until there is no visible liquid egg.

Cook pasta dishes and stuffings that contain eggs thoroughly.
USDA grading system for eggs:

Grade AA The shell is clean, normal-shaped and unbroken; when first broken, the eggs spread remains compact; has a clear, thick albumen with prominent chalazae and a firm, centered yolk.

Grade A The shell is clean, normal-shaped and unbroken; when first broken, the egg spreads slightly; has a clear, reasonably firm albumen with prominent chalazae and a firm, fairly high yolk.

Grade B The shell may be slightly stained or misshapened; when first broken the egg spreads over a wide area; has a clear, watery albumen and an enlarged, flattened yolk.

FDA's Food Information Line
1-888-SAFEFOOD (1-888-723-3366)
Recorded messages 24 hours a day, every day. FDA public affairs specialists available 10 a.m. to 4 p.m. Eastern time, Monday through Friday.