See also: Walnut Trivia; Walnut Article
WALNUT TIPS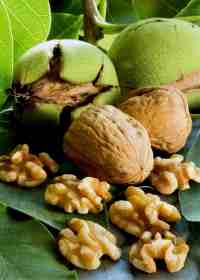 Store walnuts in the refrigerator up to 6 months, or in your freezer for longer than 6 months. Walnuts go rancid when exposed to warm temperatures for long periods of time. Heat causes the fat in walnuts to change structure, which creates off odors and flavors. Fresh walnuts smell mildly nutty and taste sweet. If your walnuts smell like paint thinner, you know they're rancid. And if they're rancid, you should throw them away. Walnuts will keep indefinitely in the freezer.

When storing walnuts in your refrigerator, store them away from foods with strong odors (e.g. fish, cabbage, onions). Walnuts can absorb the flavors of other foods.
Walnuts are rich in polyunsaturated fat, which, when exposed to heat and air, does oxidize quickly, so if you chop them up it is best to store in an airtight container in the refrigerator or freezer to ensure freshness. Chopping does not affect the nutritional value as long as they are stored properly.

Walnuts: 1 ounce = 14 halves 1 cup chopped walnuts or halves = 120 grams.

One ounce of English walnuts contains: 18 grams of total fat, 2.5 grams of omega-3 fatty acids (ALA), 4 grams carbohydrates, 2 grams fiber.

Toasting Walnuts:
OVEN: Bake on a cookie sheet at 350 degrees for about 8-10 minutes, checking frequently.

MICROWAVE: Spread walnuts in a single layer in a microwave safe plate. Microwave on High for 5-6 minutes, stirring every 2 minutes.

STOVE TOP: Cook walnuts in a dry skillet on Medium High heat for 3-5 minutes, stirring frequently.
For additional informaiton:
California Walnut Commission