OCTOBER 20
Today in Food History
• International Chefs Day [WorldChefs]
(Quotes about Chefs)
• National Brandied Fruit Day
(Brandied Bananas Recipe)
• UK: [Coffee Week] (October 16-22, 2023) The nation's largest celebration of coffee, all for a good cause.
• UK: National Baking Week (Oct 14-20, 2023)
• UK: Seed Gathering Season (Sept 23-Oct 23, 2023
[The Tree Council] Gather seeds, fruits and nuts which can be nurtured to grow the trees of the future.

On this day in:
1803 The U.S. Senate ratified the Louisiana Purchase Treaty, for the purchase of the western half of the Mississippi River basin from France for $15 million, (about 4 cents an acre) doubling the size of the country. (see also Dec 20, 1803).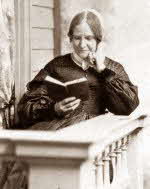 1880 Lydia Maria Francis Child died (born 1802). An American abolitionist and author of novels and children's books. She also wrote books of advice for women including 'The Frugal Housewife' (1829) a practical guide for housewives, on how to live economically.
1882 Bela Lugosi (Béla Ferenc Dezso Blaskó) was born (died Aug 16, 1956). Best known for his role as the blood drinking vampire in the 1931 film 'Dracula'.
(Blood Trivia and Facts)
1927 The first Model A Ford was produced. First sale was on December 2, 1927.
1955 'The Banana Boat Song (Day-O)' by Harry Belafonte was recorded.
1962 'The Monster Mash' by Bobby "Boris" Picket and the Crypt Kickers was number one on the music charts.
1970 Norman Borlaug received the Nobel Peace Prize for his contribution to the 'Green Revolution.' He had developed new varieties of wheat and rice to help increase food production in the Third World.
1984 The Monterey Bay Aquarium opened. Built on Cannery Row in Monterey, California on the site of an old sardine cannery, it is the world's largest.
2007 The South is in the grip of an exceptional drought and Lake Lanier, a 38,000-acre north Georgia reservoir that supplies more than 3 million residents with water, has less than a 90 day supply of water.