JANUARY 5 - Today in Food History
• National Whipped Cream Day (see 1914 below)
(Whipping Cream Tips)
• St. Simeon Stylites' Day, patron of shepherds.
• Diet Resolution Week (Jan 1-7)
(Healthy Diets & Dieting Articles)

On this day in:
1589 Catherine de Medici, wife of King Henry II of France died. She is sometimes called the 'mother of French haute cuisine' because the Italian chefs she brought with her from Florence had a strong influence on the development of French cuisine. One of the things they brought with them was ice cream.
1786 Thomas Nuttall was born. English naturalist and botanist. He also collected and studied plants in the United States, especially around the Chesapeake Bay area.

1794 Edmund Ruffin born. The father of soil chemistry in the U.S.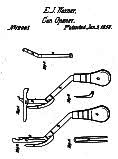 1858 Ezra J. Warner of Waterbury, Connecticut received U.S. patent No. 19063 for a can opener ("a new and Useful Improvement in Instruments for Cutting Open Sealed Tin cans and Boxes").
(Cans & Canned Food Trivia, History, etc.)
1889 According to the 'Oxford English Dictionary' the word 'hamburger' first appeared in print on this day in a Walla Walla, Washington newspaper, the Walla Walla Union. (Hamburger Trivia --- Hamburger Quotes)
1913 Kemmons Wilson was born (died Feb 12, 2003). Founder of Holiday Inn hotel chain, the first standardized hotel chain. The 1942 Bing Crosby film 'Holiday Inn' was the inspiration for the hotels name.
1914 Aaron 'Bunny' Lapin was born. Lapin was the inventor of whipped cream in an aerosol can (Reddi-Wip) in 1948. It was first sold by milkmen in St. Louis in 1948
(Whipping Cream Tips)
1914 Henry Ford introduced a minimum wage of $5 per day.

1943 George Washington Carver died. African American agricultural scientist and innovator. He developed hundreds of uses for peanuts, soybeans and sweet potatoes. He founded the George Washington Carver Research Foundation at Tuskegee, for agricultural research.
1956 Chen Kenichi was born. Chinese chef (born in Japan) best known for his role on the TV series 'Iron Chef'. He is the only Iron Chef to have held his position throughout the life of the show.
1961 'Mr. Ed' the talking horse debuts on TV.
(Horse Trivia & Facts --- Horse Quotes)
2007 Momofuku Ando died in Osaka, Japan (born in Taiwan, March 5, 1910. Mr. Ando was the founder of Nissin Food Products, and invented 'Instant Ramen' noodles.
2009 A locally caught bluefin tuna weighing 282½ pounds sold for $104,700 ($371 lb) at Tokyo's Tsukiji fish market auction. Prized by sushi lovers, the normal price for bluefin tuna is about $25 - $50 per pound.
(Bluefin Tuna Trivia)
2012 A 593 pound Bluefin Tuna sold for a record $724,000 (56.49 million yen) at Tokyo's Tsukiji Fish Market - that's about $1,220 per pound!