FEBRUARY 13 - Today in Food History
• National Cheddar Day [Tillamook Cheese]
Cheddar Cheese Trivia)
• National Tortellini Day (Pasta Trivia & Facts)
• Scotland: Oatmeal Monday: (Feb 13, 2023 - 2nd Mon in February: Scottish Universities)
• Jell-O Week (Feb 12-18, 2023 2nd full week in Feb) in 2001 Jell-O was declared Official State Snack of Utah and Utah Governor Michael O. Leavitt declared an annual "Jell-O Week." (Jello Trivia --- Jello Quotes)
• Kraut and Frankfurter Week ? (Feb 12-18, 2023)

On this day in:
1743 Sir Joseph Banks was born (died June 19, 1820). English botanist known for his promotion of the natural sciences. President of the Royal Society for over 40 years; adviser for King George III to the Royal Botanic Gardens at Kew.
1766 Thomas Tovert Malthus was born (died Dec 23, 1834). British economist best known for his theory that population tends to increase faster than the food supply, leading inevitably to disastrous results - famine, disease and/or war.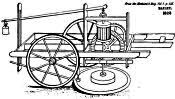 1822 Jeremiah Bailey of Chester county, Pennsylvania patented the first practical mower or grass cutting machine. The two wheeled mower was horse-drawn and could mow ten acres a day.
1826 The American Temperance Society was established in Boston, Massachusetts, advocating total abstinence from distilled beverages.
1837 Riots in New York over high price of flour.
1851 George Brown Goode was born. He was the editor of 'The Fisheries and Fisheries Industries of the United States' while Deputy Commissioner of the U.S. Commission of Fish and Fisheries.
1865 The Union Stock Yard & Transit Co. incorporated in Illinois to build and operate stock yards in Chicago.
(Chicago Food Trivia & Facts)
1923 Joseph Rosefield, of Alameda, California received a patent for new process to manufacture peanut butter. The process prevented oil separation in peanut butter, creating the first shelf-stable peanut butter that would stay fresh for up to a year because oil didn't separate from peanut butter. He licensed another company to make 'Peter Pan' peanut butter in 1923, and in 1932 his own company, Rosefield Packing Company, began marketing 'Skippy' peanut butter. (Peanut Butter Trivia)
(Peanut Butter Quotes)
1933 The House of Commons defeated a bill that would have prohibited the sale of alcohol in the U.K.
1967 The Beatles single 'Strawberry Fields Forever' is released.
1971 'One Bad Apple' by the Osmonds reached Number 1 on the charts.
1972 The Greasy Truckers Party concert took place at the Roundhouse in London
[en.wikipedia.org/wiki/Greasy_Truckers_Party]
2000 The last original 'Peanuts' comic strip is published.