See also: Tomato Juice; Article on Tomatoes; Kitchen Tips;
Tomato Quotes; Tomato Recipes
TOMATO TRIVIA and FACTS

There are at least 10,000 varieties of tomatoes.

One pound of tomato seeds will produce about 140,000 tomato plants.

The key ingredient in 78% of Americans favorite recipes is tomatoes.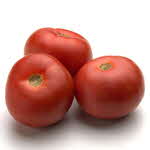 In 1893, the United States Supreme Court ruled, for the purpose of levying a tariff, that the tomato was a vegetable. The Tariff Act of 1883 levied a tax on imported vegetables, but not on fruits. The Court ruled that even though the tomato was botanically a fruit, it was a vegetable in function and common usage. (A previous case in 1889 had ruled that even though beans are botanically seeds, in common use they are vegetables.)
According to the USDA, 105,700 acres of Tomatoes were harvested for the fresh market in 2009. An additional 327,800 acres were harvested for processing (canning, freezing, etc.).

Florida and California accounted for 70% of the U.S. fresh tomato production. California accounted for 95% of processed tomato production.

California accounted for 95% of processed tomato production in 2006. Florida and California combined accounted for 68% of total U.S. tomato production in the same year.

China is the largest producer of tomatoes in the world, producing over 16% of all tomatoes.

The first tomato plants were planted in Greece by a Friar Francis in 1818, in the gardens of a Capuchin monastery at the Choragic Monument of Lysicrates (built in 335 B.C.) in Athens.
Supposedly Ronald Reagan didn't eat a tomato for 70 years. His dislike of tomatoes sprang from a childhood prank. He had been given what he thought was an apple, but when he took a bite realized it was a tomato.

The smallest species of tomatoes are less than three-quarters of an inch in diameter. There are both red and yellow varieties.

The highest concentration of vitamin C in tomatoes is in the jelly-like substance around the seeds.

Tomatoes are a natural source of the antioxidant 'lycopene', which may help prevent heart disease. According to scientists, more lycopene is absorbed by the body from cooked tomatoes than from fresh tomatoes. 1/2 cup of canned tomatoes delivers more than 3 times the lycopene as found in one medium raw tomato.

Pace Foods (picante sauce & salsas) uses about 35 million pounds of fresh tomatoes every year.Tomato juice is the official state beverage of Ohio.
• The Tomato was named the Official Fruit of Ohio in 2009.

• The Tomato (Lycopersicon lycopersicum) was designated as the Official Fruit of Tennessee in 2003.

• In 2003, Louisiana designated the Creole Tomato as the official State Vegetable Plant.

• The tomato is also the official state Vegetable of New Jersey.

• The South Arkansas vine ripe pink tomato is Arkansas' official state Fruit and also the official state Vegetable.

FREE Magazines
and other Publications
An extensive selection of free magazines and other publications
FOOD TRIVIA and FOOD FACTS
Please feel free to link to any pages of FoodReference.com from your website.
For permission to use any of this content please E-mail: [email protected]
All contents are copyright © 1990 - 2022 James T. Ehler and www.FoodReference.com unless otherwise noted.
All rights reserved. You may copy and use portions of this website for non-commercial, personal use only.
Any other use of these materials without prior written authorization is not very nice and violates the copyright.
Please take the time to request permission.


CULINARY SCHOOLS
& COOKING CLASSES
From Amateur & Basic Cooking Classes to Professional Chef Training & Degrees
FoodReference.com (since 1999)
FOOD TRIVIA and FOOD FACTS SECTION