THANKSGIVING TRIVIA & FACTS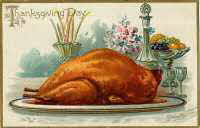 When do we eat our Thanksgiving meal? It has been estimated that about 12% of Americans have their Thanksgiving meal between 12 p.m. and 1 p.m. While most (42%) have Thanksgiving dinner between 1 p.m. and 3 p.m. Another 29% sit down to dinner between 4 p.m. and 5 p.m., and 14% eat their meal between 5 p.m. and 7 p.m. The remaining 3% have their Thanksgiving meal after 8 p.m.
The first Macy' Thanksgiving Day Parade in New York was in 1914. It was originally named Macy's Christmas Parade, but was renamed Thanksgiving Day Parade in 1927.
The Wednesday before Thanksgiving has the most bar sales in America, more than New Year's Eve and even St. Patrick's Day. Thanksgiving can be a very stressful time!
The first Thanksgiving in North America is believed to have been held in 1619 or 1621.
Some experts think the first Thanksgiving dinner was served by the Pilgrims in 1621 at Plymouth, Massachusetts. Others credit the settlers near Virginia's Jamestown with celebrating the first Thanksgiving as their version of England's ancient Harvest Home Festival.
On December 4, 1619, thirty-eight colonists arrived from England and ventured ashore to settle the land grant along the James River that became known as the Berkeley Hundred (Berkeley Plantation). They observed a prayer of Thanksgiving for their safe passage to the New World.
Soon, the landing party--including a sawyer, a cooper, a shoemaker, a gunmaker, and a cook--set about constructing a storehouse and an assembly hall for the plantation. December 4 became a day of Thanksgiving at Berkeley, "yearly and perpetually kept holy" as the plantation charter directed.
The first national Thanksgiving Day, proclaimed by President George Washington, was celebrated on Nov. 26, 1789, the LAST Thursday of the month.
In 1863, President Abraham Lincoln made Thanksgiving an official annual holiday to be commemorated on the LAST Thursday in November.
In 1939 President Franklin D. Roosevelt changed Thanksgiving from the LAST Thursday in November to the THIRD Thursday.
Three years later, in December 1941, a joint session of Congress changed it to the FOURTH Thursday in November (in part because not all states complied with Roosevelt's choice).
Since 1947, the National Turkey Federation (NTF) has presented the President of the United States with a live turkey and two dressed turkeys in celebration of Thanksgiving.
The annual presentation of the National Thanksgiving Turkey to the President has become a traditional holiday ritual in the nation's capital, signaling the unofficial beginning of the holiday season and providing the President an opportunity to reflect publicly on the meaning of the Thanksgiving season. After the ceremony, the live bird retires to a historical farm to live out the rest of its years.
Many people report drowsiness after eating Thanksgiving dinner. While turkey often receives the blame, studies suggest that carbohydrate-rich meals may cause sleepiness by increasing the number of tryptophans in the brain. It is the unusually large, multi-coursed, carbohydrate-rich meal most people eat on Thanksgiving that is more likely the cause of the drowsiness. So just eat the turkey and the vegetables and you may not feel drowsy.
About 7% of shoppers wait until the day before Thanksgiving to shop for their food. About 36% shopped for their Thanksgiving food a week or more ahead of time.
According to the National Turkey Federation, about 24% of Americans purchase fresh turkeys for Thanksgiving, and 69% purchase frozen turkeys.
Thanksgiving meals were attended by 84% of the general population of U.S. adults in 2007.
It has been estimated that 88% of Americans eat turkey at Thanksgiving.
The top five most popular ways to serve leftover Thanksgiving turkey are:
Sandwich, Soup or Stew, Casserole, Stir-fry, & Salad.
More than 94% of Thanksgiving dinners include cranberry sauce.

Please feel free to link to any pages of FoodReference.com from your website.
For permission to use any of this content please E-mail: [email protected]
All contents are copyright © 1990 - 2023 James T. Ehler and www.FoodReference.com unless otherwise noted.
All rights reserved. You may copy and use portions of this website for non-commercial, personal use only.
Any other use of these materials without prior written authorization is not very nice and violates the copyright.
Please take the time to request permission.


FOOD TRIVIA and FOOD FACTS
FoodReference.com (since 1999)
FOOD TRIVIA and FOOD FACTS SECTION