See also: History of Tea; Tea Around the World; Tea Bags;
New York's First Fashionable Beverage; Quotes about Tea
TEA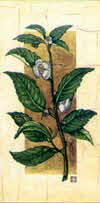 The most popular beverage in the world is tea, and beer is number two. However, in England and Ireland, beer is the most popular beverage.

U.S. Tea sales for 2007 were about $6.85 billion, compared to about $1.8 billion per year in the early 1990s.

Tea was designated as the Official Hospitality Beverage of South Carolina in 1995.

Top Tea consuming countries, per capita tea consumption 2005:
• Ireland 2.96 cups
• Libya 2.92 cups
• Qatar 2.89 cups
• Iraq 2.42 cups
• Kuwait 2.29 cups
• Britain 2.24 cups
• (U.S. per capita consumption is about 1/3 cup)
International Tea Committee (Washington Post Weekly 10/31/05)

In mid-19th century America, Harper's magazine reported:
"A country lady received a pound of tea from a fashionable friend in the city, and supposing it to be a newly-introduced vegetable, boiled the whole parcel, and had it served up for dinner, throwing away the liquor of course."

APPROXIMATE CAFFEINE CONTENT OF TEA (5 oz cup)
• 1 minute brew - 10-35 mg
• 3 minute brew - 20-45 mg
• Instant Tea - 12-30 mg

Please feel free to link to any pages of FoodReference.com from your website.
For permission to use any of this content please E-mail: [email protected]
All contents are copyright © 1990 - 2023 James T. Ehler and www.FoodReference.com unless otherwise noted.
All rights reserved. You may copy and use portions of this website for non-commercial, personal use only.
Any other use of these materials without prior written authorization is not very nice and violates the copyright.
Please take the time to request permission.


FOOD TRIVIA and FOOD FACTS
FoodReference.com (since 1999)
FOOD TRIVIA and FOOD FACTS SECTION