SWISS CHEESE TRIVIA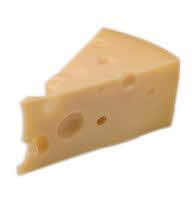 In 2002 USDA guidelines reduced the size for the holes in Swiss cheese by 50% because modern slicing machinery had problems slicing cheese with larger holes.


Emmentaler ('Swiss cheese') is a cow's milk cheese that has been made in Switzerland's Emmental Valley since the 15th century, and is the country's oldest cheese. It is made in giant wheels that can weigh well over 200 pounds.

Why does Swiss Cheese have holes?
Put simply, during the manufacturing process the particular bacteria that produces the flavor and texture of the cheese also produces carbon dioxide gas as a by product, and these bubbles of gas produce the holes.

QUESTION
Dear James,

My husband bought some two year old Swiss cheese today at a local cheese store. When we returned home and tried it, it crunched. I called the store back and asked about the crunch. They told me it was salt, that this happens in aged Swiss and Cheddar cheese. Is that true? We live in Wisconsin and have eaten cheese our whole lives and have never had crunchy cheese.
Thanks for your help, Pam

ANSWER
Hello Pam,

Salt can cause crunchiness, but not in aged Swiss cheese.
Aged Swiss cheese 'crunchiness' is from 'tyrosine,' an amino acid that forms in clusters as cheese ages, and is a sign of a well aged cheese. (Tyrosine is found in the milk protein, casein).
Salt 'crunchiness' can be present in some 'washed rind' cheeses (Limburger, Munster, Tallegio, Port Salut, etc), and is caused by salt brine used to cure the cheeses.
Chef James, FoodReference.com

Please feel free to link to any pages of FoodReference.com from your website.
For permission to use any of this content please E-mail: [email protected]
All contents are copyright © 1990 - 2023 James T. Ehler and www.FoodReference.com unless otherwise noted.
All rights reserved. You may copy and use portions of this website for non-commercial, personal use only.
Any other use of these materials without prior written authorization is not very nice and violates the copyright.
Please take the time to request permission.


FOOD TRIVIA and FOOD FACTS
FoodReference.com (since 1999)
FOOD TRIVIA and FOOD FACTS SECTION