Also see article: Will the Real Strawberry Please Stand Up
STRAWBERRY; STRAWBERRIES TRIVIA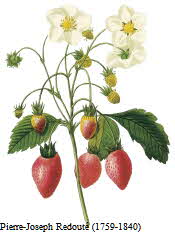 The average strawberry has about 200 seeds. Strawberry seeds are all those little bumpy spots on the surface of the berry.

More than 40 species of strawberries have been identified in the wild. Wild strawberries are all fairly small in size, and it wasn't until the 18th century that attempts to produce strawberry plants with larger berries were successful.

One acre of of land planted with strawberry plants produces about 50,000 pounds of strawberries.
The Strawberry (Fragaria spp.) was designated as the Official Fruit of Oklahoma in 2005.

The Strawberry was designated as the Official Red Berry of North Carolina in 2001.

In 2001 Louisiana designated the Louisiana Strawberry (Fragaria sp.) as the Official State Fruit of Louisiana.

Strawberries are the official state fruit of Delaware.
Fresh strawberries were once used as a toothpaste, as the juice cleaned discolored teeth.

Alaska Strawberries: A 19th century American euphemism for 'dried beans'.

The strawberry "is the wonder of all the Fruits growing naturally in those parts...In some parts where the Natives have planted, I have many times seen as many as would fill a good ship, within a few miles compasse."
Roger Williams, founder of Providence in 1636 in his 'Key into the Language of America'
Strawberry Point, Iowa is home to the 'World's Largest Strawberry,' which sits atop city hall.

There are 120 people in the U.S. listed on whitepages.com with the last name 'Strawberry'
(Mark Morton, 'Gastronomica', Fall 2010)
According to the USDA, 39,800 acres of Strawberries were harvested in California in 2009 (total U.S. harvest was 58,080 acres)

Strawberries are eaten in more than 90% or U.S. households each year.

The most valuable fruit crops in the United States are in order, grapes, apples, oranges and strawberries (2000).
There is a centuries old custom that if you break a double strawberry in half and share it with someone else, they will fall in love.

Strawberries were once avoided by pregnant women because it was believed that their children would be born with strawberry birth marks.

The U.S. is the leading producer of strawberries, and supplies about 20% of the world's strawberries. California grows about 88% of U.S. strawberries. (usda -2008)

California grows about 75% of U.S. strawberries.
(USDA 2004)
At the two-day California Strawberry Festival in Oxnard, you can sample strawberries prepared in all sorts of ways. In addition to traditional treats such as strawberry shortcake, strawberry jam, strawberry tarts and strawberries dipped in chocolate, there is strawberry pizza! This dessert pizza is topped with strawberries, sour cream, cream cheese and whipped cream on a sweet bread baked like a pizza. Strawberry kabobs dipped in powdered sugar are another delicacy. And drinks such as a strawberry smoothie can wash it all down.

Strawberries are big business in Oxnard. The annual strawberry revenues are $100 million from Oxnard's bountiful 6,600 berry acres. Twenty-four companies harvest and cool nearly 16 million trays of berries, which are shipped throughout North America as well as to Germany and Japan.
Library of Congress Local Legacies Project

FREE Magazines
and other Publications
An extensive selection of free magazines and other publications
FOOD TRIVIA and FOOD FACTS
Please feel free to link to any pages of FoodReference.com from your website.
For permission to use any of this content please E-mail: [email protected]
All contents are copyright © 1990 - 2023 James T. Ehler and www.FoodReference.com unless otherwise noted.
All rights reserved. You may copy and use portions of this website for non-commercial, personal use only.
Any other use of these materials without prior written authorization is not very nice and violates the copyright.
Please take the time to request permission.


CULINARY SCHOOLS
& COOKING CLASSES
From Amateur & Basic Cooking Classes to Professional Chef Training & Degrees
FoodReference.com (since 1999)
FOOD TRIVIA and FOOD FACTS SECTION