See also: Lamb Trivia & Facts --- Lamb Recipes
SHEEP TRIVIA
In Armenia a layer of sheep dung in a cave helped protect the world's oldest known shoe. Buried in a pot 5,500 years ago as part of some ritual, the leather shoe was tied with laces and filled with grass that probably helped keep its shape. The same shoe design would go on to be used across Europe for thousands of years.
Archaeology, Sept/Oct 2010 (www.archaeology.org)
Total sheep and lamb inventory in the U.S. in July 2010 was about 6.90 million head. (USDA, 2010)
Archaeological evidence suggests that sheep were domesticated about 11,000 years ago.

Lamb is a very ancient food, and sheep were probably domesticated about 12,000 years ago. There is positive evidence they were domesticated by 8900 B.C. in Iraq and Romania. Some of the oldest traditional recipes come from Greece and date back several thousand years.

The worldwide population of sheep today is over 1 billion, and is considered one of the most valuable of all the domestic animals. Wild forms of sheep are found in Europe, Asia, Africa and North America.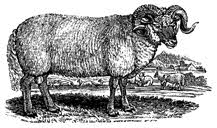 There are more than 70,000 sheep farms in the U.S., and they produce over 300 million pounds of lamb each year.

In 1838 there were 1.6 million sheep in Vermont and 292,000 people.

The top 5 sheep producing states are Texas, California, Wyoming, Colorado and South Dakota.

There are more than 900 different breeds of sheep, 47 breeds and types of sheep in the U.S.

It is said that New Zealand has 3 million people and 60 million sheep.

In 2002 American meat packers produced 222 million pounds of lamb and mutton. (american meat institute)
New Zealand has a population of about 3.3 million people and about 46 million sheep.
(2000, National Turkey Federation)
Per Capita Consumption of Sheep in U.S.
• (2003): 1.2 lbs

Top 5 Sheep Countries: (2000).
• China - 131 million
• Australia - 117 million
• India - 58 million
• Iran - 55 million
• New Zealand 45 1/2 million

Please feel free to link to any pages of FoodReference.com from your website.
For permission to use any of this content please E-mail: [email protected]
All contents are copyright © 1990 - 2023 James T. Ehler and www.FoodReference.com unless otherwise noted.
All rights reserved. You may copy and use portions of this website for non-commercial, personal use only.
Any other use of these materials without prior written authorization is not very nice and violates the copyright.
Please take the time to request permission.


FOOD TRIVIA and FOOD FACTS
FoodReference.com (since 1999)
FOOD TRIVIA and FOOD FACTS SECTION