MONKFISH
Monkfish liver has been eaten in Japan for centuries, and can be found in some Japanese restaurants in the U.S. 'Monkfish Foi Gras' has the same texture as goose liver pate.

Monkfish are found in the Atlantic Ocean and the Mediterranean Sea.

Monkfish, also known as a anglerfish, frogfish, goosefish, and sea devil, is a very ugly fish, with a huge head and large teeth.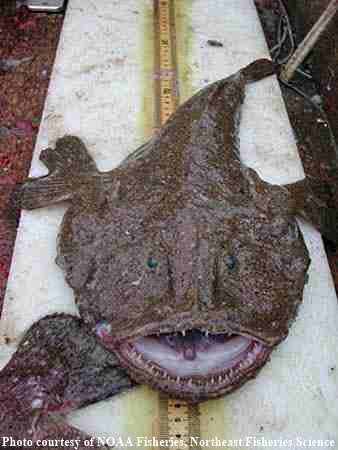 Monkfish are almost all head, and most of their head is mouth - with fang like teeth, They have been known to catch and eat waterbirds at the surface.

Generally only monkfish tail is eaten, which has a sweet, lobster-like flavor. Monkfish tail fillets can weigh up to 10 pounds.

Monkfish has been described as "a tadpole almost the size and shape of a baby grand piano."

Please feel free to link to any pages of FoodReference.com from your website.
For permission to use any of this content please E-mail: [email protected]
All contents are copyright © 1990 - 2023 James T. Ehler and www.FoodReference.com unless otherwise noted.
All rights reserved. You may copy and use portions of this website for non-commercial, personal use only.
Any other use of these materials without prior written authorization is not very nice and violates the copyright.
Please take the time to request permission.


FOOD TRIVIA and FOOD FACTS
FoodReference.com (since 1999)
FOOD TRIVIA and FOOD FACTS SECTION