See also: Mint Family
MINT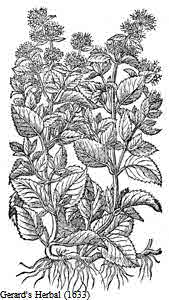 There are about 30 species of mint and some say almost 500 varieties, including peppermint, spearmint, apple mint, orange mint, Spanish mint, pineapple mint, ginger mint, mackerel mint, lamb mint, horsemint, lemon mint, pennyroyal, water mint, chocolate mint, etc.

The Romans and Greeks appreciated mint's refreshing scent and used it to flavor cordials, condiments and fruit compotes. They also used it in baths and bedchambers for its clean, invigorating perfume.

Mint was used by the ancient Assyrians in rituals to their fire god. The ancient Hebrews scattered mint leaves on the synagogue floor so that each footstep would produce a fragrant whiff. Spearmint was used by the ancient Greeks and Romans as a flavoring herb, culinary condiment, and in perfumes and bath scents. Mint was named by the Greeks after the mythical character, Menthe. During the Middle Ages, besides culinary use, powdered mint leaves were used to whiten the teeth.

The common garden mint is spearmint, not peppermint as most people assume.

Mint is well thought of in Mexico, where it is known as yerba buena, the good herb.

Mint's essential oils are used in perfume, cosmetics, air fresheners, drink flavorings, candies and medications.

Mint is said to be an effective mouse deterrent.

Please feel free to link to any pages of FoodReference.com from your website.
For permission to use any of this content please E-mail: [email protected]
All contents are copyright © 1990 - 2023 James T. Ehler and www.FoodReference.com unless otherwise noted.
All rights reserved. You may copy and use portions of this website for non-commercial, personal use only.
Any other use of these materials without prior written authorization is not very nice and violates the copyright.
Please take the time to request permission.


FOOD TRIVIA and FOOD FACTS
FoodReference.com (since 1999)
FOOD TRIVIA and FOOD FACTS SECTION