MIRACLE FRUIT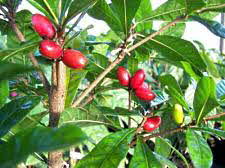 Miracle fruit is a tropical African plant whose small red fruit has a very unusual property. When the fruit is eaten, anything bitter or sour tastes sweet.
The Miracle Fruit (Synsepalum dulcificum) is an African member of the Sapodilla family. The fruit contains a glycoprotein which, when eaten and the fleshy pulp coats the taste buds, causes bitter or sour foods to taste sweet. This effect lasts from 30 to 60 minutes. The fruit is a red berry about 3/4 to 1 inch in diameter with one seed. Miracle fruit itself is not sweet.

Miracle fruit originated in Tropical west Africa and is not frost tolerant. The only areas in the U.S. where it can be grown outdoors is southern Florida and Hawaii.

FOOD TRIVIA and FOOD FACTS
Please feel free to link to any pages of FoodReference.com from your website.
For permission to use any of this content please E-mail: [email protected]
All contents are copyright © 1990 - 2023 James T. Ehler and www.FoodReference.com unless otherwise noted.
All rights reserved. You may copy and use portions of this website for non-commercial, personal use only.
Any other use of these materials without prior written authorization is not very nice and violates the copyright.
Please take the time to request permission.


FoodReference.com (since 1999)
FOOD TRIVIA and FOOD FACTS SECTION