MARSHMALLOW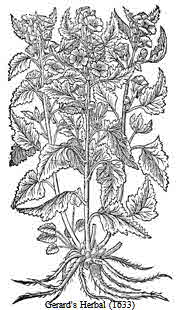 The Mallow family of plants (Malvaceae) includes hollyhock, the cotton plant, okra, marsh mallow and the Rose of Sharon.

The roots of the marsh mallow (Althaea officinalis) were the source for the original marshmallow candy, made by boiling the soft inner pulp from the roots with sugar until very thick.

According to Harold McGee in 'On Food and Cooking,' "the first marshmallow-like confection, called pate de Guimauve, was made in France" from the juice of the marsh mallow.

Today, marshmallows are made from sugar, corn syrup and gelatin.

FOOD TRIVIA and FOOD FACTS
Please feel free to link to any pages of FoodReference.com from your website.
For permission to use any of this content please E-mail: [email protected]
All contents are copyright © 1990 - 2023 James T. Ehler and www.FoodReference.com unless otherwise noted.
All rights reserved. You may copy and use portions of this website for non-commercial, personal use only.
Any other use of these materials without prior written authorization is not very nice and violates the copyright.
Please take the time to request permission.


FoodReference.com (since 1999)
FOOD TRIVIA and FOOD FACTS SECTION