See also: Dried Beans; Bean Trivia; Green Bean Facts
Also: Fresh Beans Article
LIMA BEAN TRIVIA
U.S. per capita consumption of Lima beans was 0.3 pounds in 2011.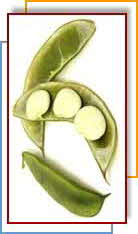 According to the USDA, 34,740 acres of Lima Beans were harvested for processing in 2009. About 30,000 acres were for frozen beans and 4,740 acres for canning. (USDA, 2010)
Lima beans (Phaseolus limensis) originated in Peru (or possibly Guatemala). They have been cultivated in Peru since 6000 B.C., and their common name comes from Lima, Peru's capital city.
Another name for the lima bean is 'chad bean'.
Lima beans contain cyanide compounds, which is why many countries, including the U.S., restrict commercially grown varieties to those with very low cyanogen levels. The lima beans grown in Java and Burma have 20 to 30 times the concentration allowed in most Western countries. They must be cooked thoroughly to allow the hydrogen cyanide gas produced to be driven off.
Large Lima Bean are large and flat with a greenish-white color. It has a buttery flavor and creamy texture. This bean is named after Lima, Peru, and is extremely popular in the Americas, both in its natural state and dried.
CDC.gov - 5 a Day
Green Baby Lima Beans come from Peru and are very popular in the Americas. The baby variety is much loved in Japan for making desserts from bean paste known as "an." These are medium-sized flat beans with a greenish white color, buttery flavor, and creamy texture.
CDC.gov - 5 a Day
Fresh lima beans are difficult to find in the United States, but can occasionally be found at farmers markets. It is easier to find lima beans in the southern United States than anywhere else in the country. Most lima beans are dried, canned, or frozen
CDC.gov - 5 a Day

Please feel free to link to any pages of FoodReference.com from your website.
For permission to use any of this content please E-mail: [email protected]
All contents are copyright © 1990 - 2023 James T. Ehler and www.FoodReference.com unless otherwise noted.
All rights reserved. You may copy and use portions of this website for non-commercial, personal use only.
Any other use of these materials without prior written authorization is not very nice and violates the copyright.
Please take the time to request permission.


FOOD TRIVIA and FOOD FACTS
FoodReference.com (since 1999)
FOOD TRIVIA and FOOD FACTS SECTION