KOHLRABI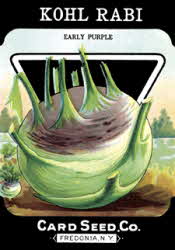 Kohlrabi (Brassica oleracea, Gongylodes group), also known as turnip cabbage, is a form of cabbage, a member of the mustard family. It is not a root vegetable, but rather a fleshy bulbous stem just above the ground. Kohlrabi is of European origin, and popular in Germany, Russia, Hungary and also in China (gai laarn tau).
There are both green and purple skinned types, and both have creamy white flesh. Kohlrabi may look like a turnip, but its taste is very different, with a sweet, peppery, broccoli/cucumber flavor and crisp texture. They are excellent raw by itself and in salads, and may also be steamed, stir fried, braised or stuffed. The cooked leaves have a collard like flavor.
Kohlrabi is high in fiber, and excellent source of vitamin C and a good source of potassium. It contains about 40 calories per cup.

CULINARY SCHOOLS
& COOKING CLASSES
From Amateur & Basic Cooking Classes to Professional Chef Training & Degrees - Associates, Bachelors & Masters - More than 1,000 schools & classes listed for all 50 States, Online and Worldwide
FOOD TRIVIA and FOOD FACTS
Please feel free to link to any pages of FoodReference.com from your website.
For permission to use any of this content please E-mail: [email protected]
All contents are copyright © 1990 - 2023 James T. Ehler and www.FoodReference.com unless otherwise noted.
All rights reserved. You may copy and use portions of this website for non-commercial, personal use only.
Any other use of these materials without prior written authorization is not very nice and violates the copyright.
Please take the time to request permission.
FoodReference.com (since 1999)
FOOD TRIVIA and FOOD FACTS SECTION