KIWANO MELON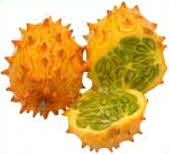 Kiwano, African Horned Melon, African Horned Cucumber, Jelly Melon (Cucumis metuliferus).
The kiwano is a large lemon-shaped fruit, orange in color with stubby horns or spikes, native to southern and central Africa, and introduced to Australia and New Zealand in the early 20th century.

The name 'Kiwano' is a trademarked brand name used by New Zealand growers. The horned cucumber has yellow/green flesh with a jelly-like texture and a tart cumcumber lime flavor.

CULINARY SCHOOLS
& COOKING CLASSES
From Amateur & Basic Cooking Classes to Professional Chef Training & Degrees - Associates, Bachelors & Masters - More than 1,000 schools & classes listed for all 50 States, Online and Worldwide
FOOD TRIVIA and FOOD FACTS
Please feel free to link to any pages of FoodReference.com from your website.
For permission to use any of this content please E-mail: [email protected]
All contents are copyright © 1990 - 2023 James T. Ehler and www.FoodReference.com unless otherwise noted.
All rights reserved. You may copy and use portions of this website for non-commercial, personal use only.
Any other use of these materials without prior written authorization is not very nice and violates the copyright.
Please take the time to request permission.
FoodReference.com (since 1999)
FOOD TRIVIA and FOOD FACTS SECTION