ILLINOIS FOOD TRIVIA & FACTS
Des Plaines, Illinois is home to Ray Kroc's first McDonald's restuarant (1955). He signed a franchise agreement with Dick and Mac McDonald, who had opened their restaurant in 1948 in San Bernardino, California.
Illinois is The Prairie State, The Corn State, Garden of the West, The Sucker State and the Land of Lincoln.
FARMS & FARMERS
Illinois approximate land area: 35,529,619 acres Farmland is 26,775,100 acres or 75.4% of total land
Organic agriculture accounts for about 32,488 acres
Number of Farms: 76,860
Principle Farm Operators:
Men: 69,196 Women: 7,664
(2013 - USDA Economic Research Service: www.ers.usda.gov )
[2007-2008 latest available data]
POPULATION & HUNGER
Illinois has a total population of: 12,869,257
Urban population: 11,194,685
Rural population: 1,674,572
Food insecure households*: 13.3%
Households with very low food security*: 4.5%
*Food insecurity - Limited or uncertain availability of nutritionally adequate and safe foods or limited or uncertain ability to acquire acceptable foods in socially acceptable ways.
Very low food security - At times during the year, eating patterns of one or more household members were disrupted and food intake reduced because the household lacked money and other resources for food.
(2013 - USDA Economic Research Service: www.ers.usda.gov )
(Population & Food Security data: 2011)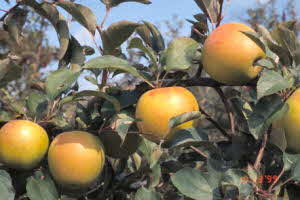 On August 21, 2007 the GoldRush apple (Malus xdomestica) was designated as the official Illinois state fruit. GoldRush is a sweet-tart yellow apple with a long shelf life
Popcorn was designated as Illinois' official state snack food in 2004.

There are 333 Illinois farms that grow popcorn on 47,000 acres, making Illinois the third largest grower of the product.

Total U.S. pumpkin production in the major pumpkin-producing states in 2007 was 1.1 billion pounds. Illinois led the country by producing 542 million pounds of pumpkin.
US Census Bureau, October, 2008
Nabisco produced 16 billion Oreo cookies in 1995 at its factory in Chicago, Illinois, the largest of its kind in the world.

The Bluegill (Lepomis macrochirus) is designated the official State fish of the State of Illinois (1986).

The White-Tailed Deer is the official state animal of Illinois (designated in 1982).

FREE Magazines
and other Publications
An extensive selection of free magazines and other publications
FOOD TRIVIA and FOOD FACTS
Please feel free to link to any pages of FoodReference.com from your website.
For permission to use any of this content please E-mail: [email protected]
All contents are copyright © 1990 - 2023 James T. Ehler and www.FoodReference.com unless otherwise noted.
All rights reserved. You may copy and use portions of this website for non-commercial, personal use only.
Any other use of these materials without prior written authorization is not very nice and violates the copyright.
Please take the time to request permission.
CULINARY SCHOOLS
& COOKING CLASSES
From Amateur & Basic Cooking Classes to Professional Chef Training & Degrees
FoodReference.com (since 1999)
FOOD TRIVIA and FOOD FACTS SECTION