CHEDDAR STUFFED TOMATOES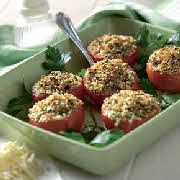 Makes 8 halves for 4 servings
Ingredients
• 4 large ripe tomatoes
• 2 tablespoons Cabot Salted Butter
• 1/2 cup finely chopped onion
• 2 teaspoons minced garlic
• 2 cups fresh bread crumbs (about 4 slices firm white bread)
• 1 cup grated Cabot Sharp or Extra Sharp Cheddar*
• 1/4 cup chopped fresh parsley
• 1/4 teaspoon salt
• 1/4 teaspoon ground black pepper

Directions
1. Place rack in upper third of oven and preheat oven to 400ºF. Lightly butter shallow baking dish large enough to hold 8 tomato halves.

2. Pull off stems and cut tomatoes in half crosswise. With teaspoon, scoop out and discard seeds. Lightly salt interiors and set upside-down on paper towels to drain.

3. Meanwhile, melt butter in skillet over medium heat. Add onion and garlic and stir until onion is translucent, about 5 minutes.

4. Increase heat to medium-high, add bread crumbs and continue stirring until crumbs are golden, about 5 minutes longer.

5. Transfer crumb mixture to bowl and stir in cheese, parsley, salt and pepper. Spoon mixture into tomato halves and set in prepared dish.

6. Bake for about 15 minutes, or until tomatoes are tender and filling is lightly browned on top.

*To vary the flavor, substitute Cabot Tomato Basil or Roasted Garlic Cheddar.
Nutrition Analysis
Calories 134 , Total Fat 8g , Saturated Fat 5g , Sodium 264mg , Carbohydrates 10g , Dietary Fiber 1g , Protein 5g , Calcium 125mg
Recipe & photo courtesy of Cabot Creamery Cooperative
www.cabotcheese.com