CABBAGE, POTATO AND CHEDDAR CASSEROLE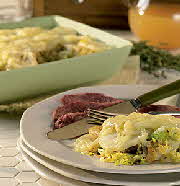 Makes 8 servings
Ingredients
• 5 cups peeled and thinly sliced russet (baking) potatoes (about 2 pounds)
• 3 tablespoons Cabot Salted Butter
• 6 cups thinly sliced Savoy cabbage (about 1 small head)
• 1/2 teaspoon dried thyme leaves
• 1/2 teaspoon salt
• 1/4 teaspoon ground black pepper
• 8 ounces Sharp or Extra Sharp Cabot Cheddar, grated

Directions
1. Bring large saucepan of water to boil. Add potatoes and cook for 5 minutes. Drain in colander and set aside.

2. In large skillet over medium heat, melt butter. Add cabbage, thyme, salt and pepper. Cover and cook, stirring often, until cabbage is wilted, about 5 minutes

3. Preheat oven to 400°F. Coat 8-by-8-inch or similar baking dish with nonstick cooking spray. Arrange one third of potatoes over bottom of dish. Scatter one third of cheese over potatoes. Top with half of cabbage.

4. Add another third of potatoes and another third of cheese. Top with remaining cabbage.

5. Arrange remaining potatoes on top. Set remaining cheese aside. Cover baking dish tightly with foil.

6. Bake for 45 minutes. Uncover and sprinkle with reserved cheese. Return to oven briefly to melt cheese.
Nutrition Analysis
Calories 252 , Total Fat 14g , Saturated Fat 9g , Sodium 557mg , Carbohydrates 23g , Dietary Fiber 4g , Protein 10g , Calcium 230mg

Recipe & photo courtesy of Cabot Creamery Cooperative
www.cabotcheese.com