WALLA WALLA SWEET ONION AND CHERRY TOMATO BRUSCHETTA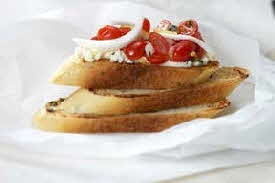 Serves 8
Ingredients
• 20 cherry tomatoes, cut in half
• 1 medium Walla Walla Sweet Onion, cut into thin slices

• 15 kalamata olives, pitted and finely chopped
• 2 tablespoons finely chopped fresh basil
• 1-tablespoon capers, drained
• ½ cup olive oil
• 2 teaspoons balsamic vinegar
• 1 teaspoon finely chopped garlic
• Freshly ground black pepper
• 8 slices Italian country bread, about ½ inch thick and 4 inches wide
• 4 ounces mascarpone cheese

Directions
1. Mix together tomatoes, onions, olives, basil, capers in a small bowl. Whisk together the olive oil, balsamic vinegar, garlic, and black pepper. Pour over the tomato-onion mixture, and toss. Set aside.

2. Brush the bread with olive oil and grill slices directly over medium heat, turning once, until toasted, 2 to 3 minutes total. Divide the mascarpone evenly among bread slices, spreading it with a knife. Spoon the tomato
onion mixture over the mascarpone cheese, dividing evenly and serve at room temperature.

Walla Walla Sweet Onion Marketing Committee
by Joan Deccio Wickham