Prime 112: Steakhouse & Home-Style Southern Fare
Miami Beach, Florida
An unorthodox approach in serving home-style Southern fare at a steakhouse.

With a mother following traditions of the old-school Italian way and a father from the Deep South, Mike Sabin, the Executive Chef of Myles Restaurant Group, was immersed in two vastly different cultures. Each culture would later become a dimension that he would utilize to create unmatched menu compositions.

Known for their dried thick-cut bacon bar snacks, 21 to 28-day dry-aged steaks and celebrity sightings from Russell Brand, Alex Rodriguez, Cameron Diaz, Katy Perry and Kate Hudson, Prime 112 is also recognized for their Southern flair and deep South dishes: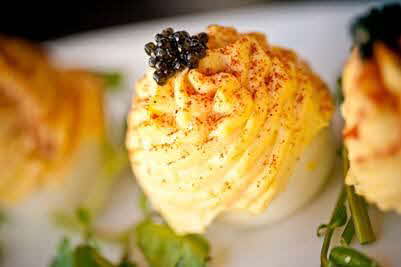 • Appetizers: Caviar atop White Truffle Deviled Eggs (see photo)
• Anytimers for lunch or dinner: Chicken & Waffles with homestyle gravy and maple syrup
• Accessories: Collard Greens, Lobster Cole Slaw, Fried Green Tomatoes, Creamed Corn and Seedless Watermelon

The philosophy:
Deliver straight forward food with the best quality ingredients! The restaurant's Tuna Poke: features four ounces of fresh Hawaiian bigeye tuna (the 2nd best fish market in the world next to Japan), a superior fish that is one of the most flavorful and fresh. Bringing in 300 to 500 pounds of Hawaiian bigeye tuna each week and shipped overnight.
The scene:
The posh setting is warm and intimate with wooden plank floors, exposed brick columns and champagne leather-upholstered chairs to the multiroom dining house.
The menu:
Serve up cutting-edge comfort food including thick-cut bacon as a signature bar snack! The finest quality beef, dry-aged for 21 to 28 days and steaks ranging from an eight-ounce filet mignon to an impressive 48-ounce porterhouse. For those looking for a little more, Wagyu beef is available at $30 per ounce. Accessory dishes include mouth-watering Truffled Lobster Mac N Cheese, Fried Green Tomatoes, Rum Baked Sweet Plantains and decadent desserts include Fried Oreos, Tahitian Vanilla Crème Brulee and Chocolate & Peanut Butter S'mores.

ABOUT PRIME 112:
From distinguished restaurateur and back to back James Beard Award Semifinalist Myles Chefetz, Prime One Twelve takes the steak-house concept to another level. Since opening its doors, Prime One Twelve has obtained national and international acclaim for its outstanding service, menu and atmosphere. Located in the heart of its luxury, high-end South of Fifth neighborhood, Prime One Twelve is the ultimate celebrity-saturated culinary experience. The menu boasts the finest quality beef, dry-aged for 21 to 28 days and steaks that range from an eight-ounce filet mignon to an impressive 48-ounce porterhouse. Main courses can be accompanied by a delectable array of sauces and butters and the endless selection of mouth-watering 'Accessories' like the Truffled Lobster Mac n Cheese which are large enough to share. Reservations are a must, as Prime One Twelve is a dining destination sought after by influential tastemakers, professional athletes, Miami locals and tourists.
The restaurant is open for lunch every day from 12pm to 3pm and dinner Sunday-Thursday 5:30pm to 12pm and Friday & Saturday 5:30pm to 1am. 112 Ocean Drive, Miami Beach, FL 33139 | 305.532.8112| www.mylesrestaurantgroup.com