Gene Simmons To Rock New Restaurant Venture

Los Angeles (March 2012) – Gene Simmons, rock legend and media mogul, is parlaying his love for music into a new restaurant and entertainment venture called Rock & Brews. The concept captures the excitement of live concerts in an authentically themed backstage environment including Rock & Brews' "The Great Wall of Rock," rock posters and rock art and multiple flat screen televisions.

Rock & Brews serves rock musicians' favorite foods and highlights an ever-changing, award-winning craft beer selection with hundreds of artisanal breweries featured from around the world.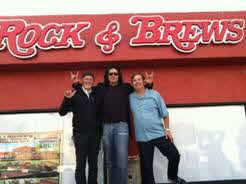 The first Rock & Brews is scheduled to open just south of Los Angeles International Airport in the beach community of El Segundo, Calif., on April 3, 2012. Several others are in the works in the Los Angeles area, including one at Los Angeles International Airport, as well as locations in Denver; Atlanta; Maui, Hawaii; Tokyo; and Los Cabos, Mexico. The expansion plan anticipates the opening of four Rock & Brews in 2012 with aggressive plans for continued expansion worldwide beginning in 2013 and beyond.

Rock & Brews was inspired by Michael Zislis, a notable force on the L.A. restaurant scene, and Dave Furano, a veteran concert promoter, who are Simmons' partners in the venture.

The Food and Drink
Rock & Brews' casual American menu features a broad selection of "Opening Acts" appetizers, "VIP" salads, hand-crafted burgers, "Headliner" sandwiches, "Front Row" pizzas and "Encores" desserts. The emphasis is on quality comfort foods that feed the soul as much as the appetite.

With hundreds of craft beers to choose from, craft beer is the top grog at Rock & Brews. More than 40 craft beers are available on tap via a state-of-the-art draft system with hundreds more available in the bottle or can. Selections include lagers, pilsners, pale ales, fruit, malty, hoppy, Belgian, dark, on-deck and bottled beer and a knowledgeable staff to help guests navigate the selection. Red and white wines are also available.

The Concerts
Rock & Brews features multiple large screen televisions that continuously screen concert videos and live recordings of the greatest rock concerts of all time with state-of-the-art sound.

The Atmosphere
With an ambiance reminiscent of being back stage at a rock event, Rock & Brews features a casual, friendly, energized environment decked out with picnic tables, concert lighting, and retractable projection screens and speakers that create a 360-degree experience. The venue is designed to be family and dog friendly with a play area for kids and a large open-air area where four legged guests can howl to the tunes.

The grand opening of Rock & Brews in El Segundo will feature a private luncheon for returning veterans and a star-studded opening bash that evening hosted by Simmons, Furano and Zislis, benefitting Wounded Warrior Project.

Rock & Brews El Segundo is located at 143 Main Street in El Segundo, Calif. For reservations or information, call 310.615.9890 or visit www.rockandbrews.com.

About Gene Simmons
Rock legend, television star, multi-hyphenate entrepreneur, writer, lecturer, and guest of financial and news programs, Gene Simmons is one of the world's most recognized personalities. He co-founded the legendary rock band KISS, which has sold over 100 million CDs and DVDs worldwide, and continues to sell out stadiums and arenas around the world, breaking box-office records set by Elvis and the Beatles. In addition to performing, Simmons has his own record company, Simmons/Universal Music, a joint venture with Universal Music.
Simmons has also enjoyed a successful career in television and film. His own reality show on A&E, Gene Simmons Family Jewels, now in its seventh year of production, is the longest-running celebrity reality show of all time. He has also completed two seasons of his other show, Gene Simmons' Rock School, for VH1. In addition he created the show Mr. Romance for Oxygen, and his own cartoon, My Dad the Rock Star, for Nickelodeon's NickToons. Simmons has co-starred in several motion pictures and co-produced New Line Cinema's Detroit Rock City.
Other entrepreneurial accomplishments include his own book imprint, Simmons/Phoenix books, which published his New York Times best seller, Sex Money Kiss, the Los Angeles Times best seller Ladies Of The Night, and the soon-to-be-released Gene Simmons' Art Of War. Simmons also tours internationally on the lecture circuit. With millions of fans around the globe and speaking four languages including English, Hebrew, Hungarian, German and some Japanese, Simmons is the personification of today's globally connected citizen and the ideal individual to take Rock & Brews worldwide.

About Dave Furano
Putting the "Rock" into Rock & Brews is Dave Furano. While serving as President of Bill Graham Presents, Furano produced a number of the most momentous concert tours ever. Working side by side with legendary concert luminary Graham, he served as tour manager for the Rolling Stones, Grateful Dead, Bob Dylan, Crosby Stills Nash and Young, Led Zeppelin, and George Harrison, and on Graham's groundbreaking "Day on The Green" outdoor festivals. During the course of his concert career, he also co-produced the critically acclaimed Martin Scorsese film "The Last Waltz" with Graham. Furano is also a leader in concert merchandising, co-founding Winterland Productions and Signatures Networks with Graham.

About Michael Zislis
A visionary entrepreneur, restaurateur, hotelier and philanthropist, Zislis has captivated consumers with a cavalcade of well-loved and highly successful establishments. He brewed his first beer for a school science experiment when he was 13. By the time he was a student at USC, he was a master brewer. In the late '80s, Zislis opened his own brew pub, one of the first in California, Manhattan Beach Brewing Company. Soon after, he opened a second brew pub in nearby Redondo Beach, then more up and down the coast. In 2000, he introduced ROCK'N FISH, a seafood and steak house in Manhattan Beach. He has since opened additional ROCK'N FISH restaurants at L.A Live and in Laguna Beach. In 2004, Zislis transformed an urban revitalization project in Manhattan Beach into the area's first and only luxury boutique hotel, Shade, recently named one of the top 25 trendiest hotels in the U.S. by Trip Advisor as well as being listed as Conde Nast Traveler's #6 reason to visit Los Angeles. In 2007, Zislis opened Mucho Ultima Mexicana, which immediately became the South Bay's premier Mexican restaurant and hottest lounge scene. In 2011, he opened The Strand House restaurant, featuring American cuisine in an environment that is reminiscent of an elegant yet welcoming beach house with stunning ocean views. Zislis is also committed to supporting local charities and schools.