Brown Sugar Bourbon Pork Tenderloin with Grilled Cornbread & Peaches
Grilling Flavor Forcast:
Brown Sugar & Bourbon
Makes about 60 appetizers.

Ingredients
· 1 package McCormick Grill Mates Brown Sugar Bourbon Marinade Mix
· 1/4 cup vegetable oil
· 2 tablespoons bourbon
· 2 tablespoons orange juice
· 2 pork tenderloins (about 1 pound each)
· 1/2 cup peach preserves
· 2 pans (13 x 9-inch each) cornbread (Hotel Kitchen's Mix/Recipe)
· Grilled Peaches (recipe follows)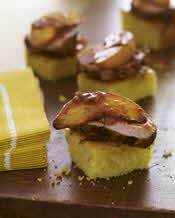 Directions
MIX Brown Sugar Bourbon Marinade Mix, oil, bourbon and orange juice in small bowl. Reserve 2 tablespoons marinade for basting. Place pork in large resealable plastic bag or glass dish. Add remaining marinade; turn to coat well.

REFRIGERATE 4 hours. Remove pork from marinade. Discard any remaining marinade. Prepare Grilled Peaches as directed in recipe below.

GRILL pork over medium heat 25 to 30 minutes or until desired doneness, turning occasionally and basting with reserved marinade halfway through cooking. Discard any remaining marinade. Cut pork tenderloins into 1/4-inch thick slices.

CUT each cornbread into 1½-inch strips, then cut each strip in half. Grill over medium heat 1 to 2 minutes on each side or until grill marks appear, turning once with a wide spatula. (Do not use tongs as cornbread is fragile and tends to crumble.)
TO SERVE, warm peach preserves. Spread evenly on cornbread strips. Cut each cornbread strip into 1½-inch squares. Place 1 slice pork tenderloin and 1 Grilled Peach slice on each cornbread square.


GRILLED PEACHES:
Mix 1 package McCormick Grill Mates Brown Sugar Bourbon Marinade, 1/4 cup each packed brown sugar and melted butter, and 1 tablespoon bourbon in large bowl until well blended.
Add 2 peaches, each cut into 1/4-inch slices; toss to coat well. Let stand 1 hour.

Fold the edges of a sheet of heavy duty foil to form a shallow baking pan.
Place on grill over low heat. Place peaches on foil. Cover with second sheet of foil.
Grill 6 to 8 minutes or until peaches are browned and caramelized around edges, turning occasionally and brushing with marinade.