Gourmet Roasted Coriander, Chickpea and Lime Rice Recipe
McCormick Gourmet Roasted Spices
Serve this lively rice dish as an accompaniment to grilled chicken or fish. It also makes a wonderful picnic salad or potluck offering.
Prep Time: 10 minutes
Cook Time: 20 minutes
Makes 4 (1-cup) servings.
Ingredients
· 1/2 cup jasmine rice
· 1 cup water
· 3/4 teaspoon McCormick Gourmet Collection Sicilian Sea Salt, divided
· 2 tablespoons olive oil
· 1 tablespoon McCormick Gourmet Collection Roasted Ground Coriander
· 2 teaspoons fresh lime juice
· 1 cup grape tomatoes, halved
· 1 can (15 1/2 ounces) chickpeas (garbanzo beans), drained and rinsed
· 1/3 cup coarsely chopped fresh cilantro
· 1/4 cup sliced green onions

Directions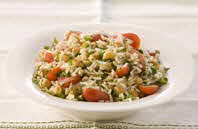 1. Mix rice, water and 1/2 teaspoon of the sea salt in medium saucepan. Bring to boil on high heat. Reduce heat to low; cover and simmer 18 to 20 minutes or water is absorbed and rice is tender. Remove from heat. Let stand 5 minutes. Fluff with fork.

2. Meanwhile, mix oil, coriander, lime juice and remaining 1/4 teaspoon sea salt in large bowl with wire whisk until well blended. Add tomatoes, chickpeas, cilantro and onions; toss to coat. Add rice; toss gently to coat. Serve at room temperature or refrigerate until ready to serve.

Nutrition Information Per Serving:
172 Calories, Fat 8g, Protein 4g, Carbohydrates 21g, Cholesterol 0mg, Sodium 515mg, Fiber 4g