Holiday Recipes from Rubi Rey Rum
Recipes below
This holiday season dazzle your guests with delicious cocktails and sweets adorned with luscious garnishes, colors and ingredients. Cozy up by the fireside with a RUBI REY Box Car. Rim the glass with cinnamon and sugar for a sweet, elegant finish. Or serve up a festive red RUBI REY Merry Berry. Made with fresh strawberries, top it off with a dollop of fresh whipped cream, for a luscious twist.
(Recipes below)

Pair these cocktails with decadent desert recipes made specifically to pair with Rubi Rey Rum by Greg Case, cookbook author of 'One Cake, One Hundred Deserts'. Greg recommends the Chocolate Pecan Pie which mixes Rubi Rey Rum with the sweet taste of pecans and chocolate chips. Pairings like this are what holiday indulgence is all about!

RUBI REY RUM is the world's only slow-filtered, single-barrel finished white rum. It is available at fine restaurants, bars and spirits stores in Denver, Chicago and Miami.
• 1½ parts RUBI REY™ Rum
• ½ parts apricot liqueur
• 2 oz fresh sour
• Cinnamon and sugar rim
Shake all ingredients over ice.

Strain into a cocktail glass rimmed with cinnamon and sugar.

Garnish with a cinnamon stick.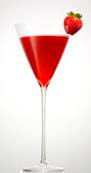 RUBI REY MERRY BERRY
• 2 Oz RUBI REY Rum
• 1 Basil Leaf
• 2 Strawberries Mashed
• 1 Oz Simple Syrup
Shake all ingredients and serve in a martini glass.

Garnish with a strawberry and a dollop of whipped cream.

CHOCOLATE PECAN PIE
Ingredients
• 1/3 cup Rubi Rey Rum
• 3 large eggs
• 1 cup dark brown sugar, packed
• 1 cup light corn syrup
• 2 teaspoons vanilla extract
• ½ teaspoon salt
• 1 stick (4 ounces) unsalted butter, melted
• ½ cups chocolate chips
• 1½ cups pecan halves, toasted
• 1- 9 inch prepared pie shell, unbaked

Directions
Adjust oven rack to lowest position and preheat to 325 degrees.

Whisk together the eggs, brown sugar, corn syrup, rum, vanilla, and salt, being sure to break up any lumps of brown sugar. Stir in the pecans and chocolate chips pour mixture into unbaked pie shell. Bake until pie filling is well browned and set, but remains slightly soft in the center; a knife inserted in the center should come out clean. Cool on rack to room temperature. Serve.

RUBI REY MAPLE SPICED APPLE
• 1 oz RUBI REY Rum
• 2 oz spiced apple cider
• ½ oz fresh lemon juice
• ½ oz maple syrup
Shake with ice.

Strain into a cinnamon and sugar rimmed martini glass.

Garnish with an apple slice.

RUBI REY S'MORE
• 1 oz RUBI REY Rum
• 1 oz Crème de Cacao dark
• ½ oz Monin toasted marshmallow syrup
• 1½ oz half and half
Shake with ice.

Strain into a graham cracker rimmed martini glass drizzled with chocolate syrup.