Bottega Del Vino
(Also see: Interview with Executive Chef Massimiliano Convertini)
Experience a taste of bona fide Italian dining right here in NYC at Bottega Del Vino. More than just a restaurant; it's an experience in which diners are transported back to Verona, Italy. Located on E. 59th Street between 5th and Madison, this Veronese restaurant offers the complete Italian dining experience, from its renowned wine list to its extensive menu and Panini bar. The décor is as authentic as the cuisine and is completely outfitted in imported handcrafted furnishings.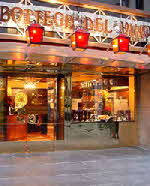 Based upon the original Bottega Del Vino, established in 1890 in Verona, Italy, the NYC restaurant is a wine lover's dream. Brought to the U.S. by one of the most illustrious personalities in the world of wine — Severino Barzan — Bottega Del Vino is an oenophiles paradise.
Celebrated as the largest wine cellar in New York City, the cellar features a selection of over 2000 international wines chosen by Barzan, the Revue du Vin de France's 1998 "Man of the Year" and the winner of 2004's "Wine Spectator Award." The restaurant's wine cellar features such standouts as the priceless Medeira 1900 D'Oliviera's Reserva and the $5,000 Alzero Qunterelli.

Crystal stemware, created personally by Barzan, complements the superb wine collection. Bottega Del Vino® Crystal is hand blown, lead free and finished to the highest world standards for balance, weight, and shape. Designed to elevate the wine drinker's experience, the extraordinary quality preserves the integrity of the wine that it was designed to hold.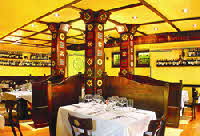 Executive Chief, Massimilliano Convertini serves only the finest in traditional Veronese cuisine including 'Spagetti alle Vongole' spaghetti with Manila clams and the restaurant's signature dish of 'Vialone Nano' risotto in Amarone wine. Partnering with Via Quadrinno, the front of the restaurant features a Panini bar with an array of sandwiches, salads, homemade pastries and fresh coffee drinks. Bottega Del Vino also offers an assortment of its signature homemade gelato including everything from traditional vanilla to exotic flavors like (mango) or (watermelon).
With imported handcrafted furnishings, designed and installed by Italian designers, the d̩cor remains true to the essence of the original Bottega Del Vino. Featuring 100-year-old aged wood pillars, marble tops, and etched copper and antique chandeliers Рdiners get the feel and look of a traditional Italian eatery, right here in New York. Bottega Del Vino also offers three private dining rooms that can accommodate both large and small parties and guarantee a memorable experience.

Bottega Del Vino establishes a new standard in wine drinking and fine dining in the States.