THE BROOKLYN DINER USA
Recipes below
In the heart of New York City's Time Square, The Brooklyn Diner USA is the perfect stop to re-fuel with some classic, home style dishes just like mom used to make- only better!

Not your typical diner experience, Brooklyn Diner USA's upscale atmosphere is at once warm and inviting. The diner caters to New Yorkers, tourists, and celebrities alike. Regular visitors include two of NYC's favorite residents: Jerry Seinfeld and Tony Bennet, who can't help but indulge in the scrumptious Brooklyn-style fare every single week.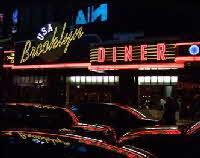 With a menu that boasts everything from the "15-bite" hotdog to Maryland double lump crab cakes, to a very original take on macaroni and cheese, the Brooklyn Diner USA presents a blend of ethnic dishes that make-up the legend of Brooklyn cooking. These mouth-watering meals are not only delicious, but the portions are so huge, you'll definitely want to bring home the left-overs! A trip to the Brooklyn Diner USA is a New York experience not to miss out on!

Brooklyn Diner USA also has fresh pastries and desserts made on the premises daily. It is truly is a diner with higher standards and sits in a category of its own!

Brooklyn Diner's head chef: Robert Reilly is in charge of cooking all the delicious Brooklyn-born ethnic cuisine present at Brooklyn Diner USA. Brooklyn Diner is known for their delectable pastries and desserts which are made fresh on the premises each day. Pastry Chef: Donald Garcia, is in charge of this daily process. Signature dessert: Strawberry Blonde Cheesecake is above the normal cheesecake standard. "The houses Strawberry Blonde Cheesecake is worth a month on your treadmill," raves New York Magazine!

BROOKLYN DINER RECIPES
HUNGARIAN BEEF GOULASH
Ingredients
• 1/4 c. vegetable oil
• 10 oz. finely cut onions
• 1 ea red pepper, finely chopped
• 2 tbs chopped garlic
• 1 lb. beef chuck
• 2 tbsp. Hungarian paprika
• 1/4 tsp. black pepper
• 1/4 tsp. cayenne
• 1/2 tsp. caraway seeds
• 1 can tomatoes, smashed
• 2 bay leaves
• Salt to taste
Directions
1. Heat the oil in a heavy bottom saucepan. Add the onions, garlic and the red pepper, cover and sweat onions until translucent.

2. Add the meat, stir together and season with salt. Cover and let sweat gently for several minutes. When meat takes on a cooked appearance, add paprika, caraway seeds, the pepper and the bay leaves, stir all together, cover and let cook on a low fire for 10 to 15 minutes.

3. Add the tomatoes, stir and cover and return to a simmer. Adjust fire so the goulash simmers very gently and let cook, stirring occasionally until meat is tender. While the goulash is cooking, taste and adjust the seasoning if needed. Cook for one hour and check the meat for tenderness.

Serve with noodle kugel.

NOODLE KUGEL
Ingredients
• 1 lb wide egg noodles
• 1/2 lb. butter
• 12 oz. heavy cream
• 12 oz. milk
• 8 oz. sour cream
• 5 ea. eggs
• 1/2 lb sugar
• 1/2 lb shredded mozzarella
• 1/2 cp. raisins
• 1/2 tsp. vanilla extract
• 1 cup corn flake crumbs
Directions
Cook the egg noodles in lightly salted water till al dente, and drain well. Toss the hot noodles with the butter in a large mixing bowl till the butter is completely dissolved.

Mix all of the remaining ingredients together and pour over the egg noodles. Pour into an appropriate sized baking dish and bake in a water bath, at 350 degrees for approximately one and a half hours. Allow to cool slightly and serve.

www.brooklyndiner.com
The Brooklyn Diner is operated by the Fireman Hospitality Group, owned by Shelley Fireman. They run various popular restaurants in New York City.