ZESTY LEMON GARLIC TILAPIA
See also: Tilapia Facts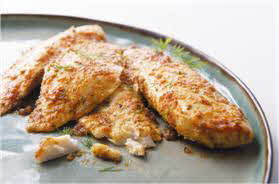 Delicate tilapia is the perfect foundation for a zesty blend of seasonings. This quick, easy dish takes 5 minutes to prepare. While it bakes, the rest of your meal comes together to have a healthy supper on the table in just about half an hour.
Ingredients:
· 1 tsp. Tone's Lemon Pepper Seasoning
· ½ tsp. paprika
· ½ tsp. salt
· 1 tsp. granulated garlic
· 1 tsp. minced onion
· ½ tsp. dried dill or basil
· 2 Tbsp. vegetable oil
· 4 (4-oz.) tilapia fillets
· 1½ Tbsp. ReaLemon Juice

Directions:
Preheat oven to 400°F.

Combine all dry spices and oil in a small bowl.

Stir to create a paste.

Drizzle lemon juice over tilapia.

Rub spice paste into tilapia.

Place tilapia on a cookie sheet and bake for 7 – 8 minutes or until cooked through.

( recipe & photo courtesy of Samsclub.com/seafood )