Litchi, Lychee, Lichee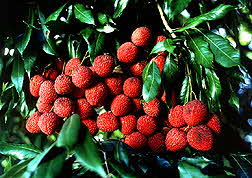 The fruit, commonly called a litchi nut, are about 1 to 1 1/2 inches in diameter when fresh, and have a red brittle shell, with white translucent flesh and a single large seed.

Litchi are eaten fresh or dried, and are also available canned in syrup. The flesh is fragrant and sticky, sweet and juicy; the dried fruit has a smoky taste somewhat like a raisin.

A versatile fruit, they are excellent in fruit salads, sweet and sour sauces, and dessert sauce. The may be used in stir fries, salads, poultry dishes, and even served over ice cream.