Tilapia With Cheesy Roasted Pepper-Chipotle Rice
See also: Tilapia Facts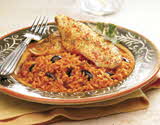 "Rice to the Rescue!" Recipe Contest "Best Whole Grain Brown Rice" Winner- Debra Thomas
Yield: Makes 4 servings.

Ingredients
• 1 (12-ounce) jar roasted red peppers, drained
• 1/4 teaspoon salt
• 1/4 teaspoon pepper
• 4 tilapia or snapper filets (about 1½ pounds)
• 1 tablespoon butter or margarine
• 1 tablespoon olive oil
• 1 cup chipotle salsa
• 3 cups cooked long grain brown rice
• 3/4 cup shredded Manchego or Parmesan cheese
• 1/2 cup pitted kalamata olives, halved

Directions
Place red peppers in blender or food processor; puree until smooth; set aside.

Sprinkle salt and pepper evenly over both sides of fish.

Melt butter and oil in large nonstick skillet over medium heat until hot. Add fish; cook 3 minutes on each side or until opaque. Set aside on separate plate; cover to keep warm.

To pan drippings, add pureed peppers and salsa; bring to boil.

Remove 1/4 cup salsa mixture; set aside.

Stir rice into remaining salsa mixture in skillet; cook until heated, stirring frequently.

Add cheese and olives; cook 1 minute or until cheese melts.

Spoon rice on platter around fish; spoon reserved sauce over fish.

Garnish with additional olives, if desired.

Nutrition Facts
Calories 580
Total Fat 24g
Cholesterol 135mg
Sodium 1540mg
Total Carbohydrate 47g
Dietary Fiber 7g
Protein 42g

USA Rice Federation (www.usarice.com)