SALMON & POTATO BAKE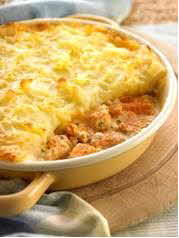 A Canned Food Week UK recipe from Independent Age. Using canned food in your recipes is not only convenient but it also includes nutrients which help to keep you healthy. Take the Salmon & Potato Bake, for example. It only includes five ingredients, taking the hassle of too much preparation out of the equation. Meanwhile canned salmon is a great source of Omega-3, which helps to regulate blood pressure and keep bodies healthy.
Serves: 3 - 4
Preparation Time: 10 minutes
Cooking Time: 30 minutes
Ingredients
· 418g can of wild red salmon, drained
· 300ml crème fraiche
· Seasoning
· 1 Tbsp chives, fresh, chopped
· 500g mashed potato (created from boiled, unsalted potatoes)
· 15g cheese, finely grated - either Cheddar of Gruyere

Method
• Preheat oven to fan 160°C, conventional 180°C, gas 4.
• Flake salmon into a large bowl; add crème fraiche, seasoning and chives. Stir gently to combine ingredients.
• Place in an ovenproof dish or four individual dishes.
• Top with mash, then scatter surface with grated cheese.
• Bake in oven for 30 minutes until golden.
Hints and Tips
As alternative use canned tuna.
Nutrition Information (per serving)
· Calories: 535
· Protein: 24.0g
· Carbs: 23.0g
· Sugars: 2.0g
· Fat: 38.0g
· Sat Fat: 22.0g
· Fibre: 2.0g
· Sodium: 427.0mg
Canned Food UK will be running the 2nd Canned Food Week April 14-20, 2014. (www.cannedfood.co.uk )