SACK'EM SHRIMP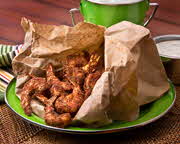 Expert's note: When grilling shrimp skewers, a double skewer is your best bet for an even, easy cook. By inserting two skewers into each shrimp - one on each side, width-wise - each piece will stay in place rather than rotating. For smaller shrimp, use a grill basket to cook. Remove shrimp from skewers or basket before placing in paper sack.
Difficulty Level: Easy
Prep time: 15 minutes
Marinating time: 1 hour
Cook time: 4-5 minutes
Makes: 4-6 servings

Ingredients:
• 1 pound large shrimp, peeled and deveined with tails on (26-30 shrimp)
• 1/2 cup KC Masterpiece Original Barbecue Sauce
• 1½ tablespoons chili powder
• 1 tablespoon parsley flakes
• 2 teaspoons lemon pepper
• 2 teaspoons paprika
• 2 teaspoons onion powder

Directions
Rinse shrimp and place in a gallon size GLAD bag. Add barbecue sauce and marinate, refrigerated, for one hour. In a brown paper lunch sack, combine lemon pepper, parsley flakes, paprika, onion powder, and chili powder. (Note: Do not use a recycled bag in this recipe)

Remove shrimp from marinade and discard marinade. Grill shrimp 3 minutes. Flip and grill another 1-2 minutes. Remove shrimp from skewers and place the hot shrimp into paper sack and toss to coat for seasoning. Eat like popcorn out of the bag.

Recipe created by football analyst, Mike Golic, on behalf of Kingsford® charcoal