Skewered Shrimp and Blackberries with Sesame Ginger Marinade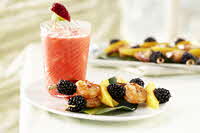 Summer sizzles with these skewers featuring juicy blackberries and a tangy ginger marinade.
Prep Time: 15 minutes
Cook Time: 5 minutes
Makes: 12 servings

Ingredients:
• 1 pkg (6 oz) Driscoll's Blackberries
• 1 each fresh mango, peeled, cut in ¼ -inch thick wedges
• 12 oz. uncooked shrimp, peeled and deveined (about 26 count size)
• 2 tbsp. soy sauce
• 1 tbsp rice vinegar
• 1 tbsp. packed brown sugar
• 1 tbsp sesame oil
• 1 tbsp. grated fresh ginger
• 1 clove garlic, pressed or minced

Instructions:
• Preheat a gas grill or broiler to high heat.

• Thread blackberries, mango and shrimp alternately on wooden skewers.

• Combine remaining ingredients to make a thin glaze.

• Brush onto prepared skewers, coating all sides of ingredients.

• Grill or broil skewers 2-3 minutes per side, carefully sliding spatula under berries when turning.

• Serve warm or room temperature.

Nutrition Facts (Serving size: 12)
Calories: 171; Protein: 19.6g; Saturated Fat: 0.48g; Fat: 2.94g; Carbohydrates: 17.28g; Cholesterol: 129.2mg; Fiber: 3.2g; Sodium: 588mg

Recipe courtesy of Driscoll's Berries