PUMPKIN RAVIOLI WITH BROWN BUTTER SAUCE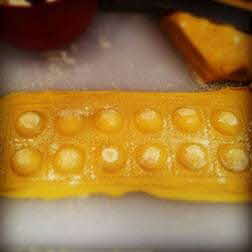 Yield: 6 servings.
INGREDIENTS
Pasta
• 2½ to 3 cups all-purpose flour
• 5 eggs
• 1 tablespoon olive oil
• Semolina flour (to prevent sticking)
Filling
• 1 small pie pumpkin (about 2¼ pounds), peeled and cut into 1-inch cubes
• 4 teaspoons finely chopped shallot
• 1/2 cup butter, cubed
• 2 teaspoons minced fresh sage
• 3/4 teaspoon minced fresh thyme
• 1/2 teaspoon salt
• 1/4 teaspoon pepper
• 2/3 cup heavy whipping cream
• 1 egg, lightly beaten
Sauce
• 1 stick of unsalted butter
• 2 teaspoons minced fresh thyme
• 1/2 teaspoon minced fresh rosemary
• Salt and pepper to taste

DIRECTIONS
1. Place 2½ cups flour in a large bowl; make a well in the center. Beat eggs and oil; pour into well. Stir together, forming a ball. Turn onto a floured surface; knead until smooth and elastic, about 8-10 minutes, adding remaining flour if necessary to keep dough from sticking. Cover and let rest for 30-45 minutes.

2. Meanwhile, in a large skillet, sauté pumpkin and shallot in butter until tender. Add the sage, thyme, salt and pepper. Transfer to a food processor; cover and process until blended (or use an immersion blender right in the pot to process until smooth). Return to the pan and stir in cream. Bring to a boil, stirring constantly. Reduce heat; simmer, uncovered, for 15-20 minutes or until thickened.

3. Sprinkle work surface with semolina flour. Divide pasta dough into fourths; roll one portion to 1/16-in. thickness. (Keep remaining dough covered until ready to use.) Working quickly, place rounded teaspoonfuls of filling 1 in. apart over half of pasta sheet. Brush around filling with egg. Fold sheet over; press down to seal. Cut into squares with a pastry wheel or ravioli stamp cutter. Repeat with remaining dough and filling. This can also be don't with a pasta maker and ravioli molds which are available in most home specialty and department stores.

4. Bring a large stock pot of salted water to a boil. Add ravioli. Reduce heat to a gentle simmer; cook for 1-2 minutes or until ravioli float to the top and are tender. Drain and keep warm.

5. In a small saucepan, cook butter until brown "bits" begin to form, approximately 5 minutes on medium heat. Remove from heat and stir in thyme, rosemary, and salt and pepper to taste. Pour over ravioli and toss to coat.

Recipe courtesy of Omega Juicers (www.OmegaJuicers.com)
Since 1985, Omega has developed the most efficient and reliable juicers available, proudly offering all styles of juicing equipment, blenders, food prep machines, drink dispensers and more.