PUMPKIN MAC AND CHEESE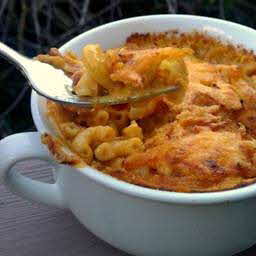 Yield: 8 servings
Ingredients
• 16 oz elbow macaroni (or any other fun shape works too!)
• 4 tbsp butter
• 3 tbsp flour
• 4 cups milk
• 8 oz shredded cheddar cheese
• 8 oz yellow American cheese (packaged it fine, just break into small pieces for easy blending)
• 3/4 cup pumpkin puree (1/2 15-oz can)
• 1½ tsp minced fresh rosemary
• 1 tsp thyme
• 1 tsp salt
• 1/2 tsp pepper
• 1/4 tsp cayenne pepper
• 3/4 cup panko style breadcrumbs

Directions
1. Preheat oven to 400 degrees.

2. Cook pasta in boiling salted water until al dente. Drain and rinse with cold water. Set aside.

3. In a heavy saucepot over medium high heat, melt the butter and add the flour. Whisk together and cook for thirty seconds. Add 2 cups milk, minced rosemary, and thyme and whisk until smooth. Add another cup of the milk (reserving one cup) and continue to whisk. Cook for approximately 5 minutes while whisking. The mixture will begin to get very thick!

4. Add the cheese and stir well so that the cheese melts evenly. Add the salt, pepper and cayenne followed by the additional cup of milk and the pumpkin puree.

5. Once everything is smooth, add the cooked macaroni and toss to coat. Pour into a 9x13 casserole pan and top with breadcrumbs.

6. Bake for 25 minutes until golden brown and bubbling.

Recipe courtesy of Omega Juicers (www.OmegaJuicers.com)
Since 1985, Omega has developed the most efficient and reliable juicers available, proudly offering all styles of juicing equipment, blenders, food prep machines, drink dispensers and more.