Lenten Season Shrimp Recipes
It's The Small Food That's A Big Crowd Pleaser For Lent
Recipes below
It's no fish tale – shrimp is the number one selling seafood in America. So, this Lenten season, when millions of Americans abstain from meat for the 40 day period leading up to Easter, shrimp is certainly the perfect menu choice for dining in or eating out.
Shrimp is America's most popular seafood because it has a mild, slightly sweet flavor that is easily incorporated into a variety of recipes. It can be served simply with a side of tangy cocktail sauce, tossed in Mediterranean pasta, or stuffed in a spicy quesadilla. Whether served hot or cold – for breakfast, lunch, or dinner – it's invariably the hit of every occasion, from family meals to social gatherings.
"Besides its great taste and versatility, it's affordable and easy to prepare," said Judy Dashiell, director, The Shrimp Council. "It takes just minutes to cook shrimp or toss into any dish, and with a price per pound similar to many cuts of beef and chicken, it's no longer a luxury purchase."
Shrimp also offers outstanding health benefits, with 24 grams of protein in every four-ounce serving and loads of essential nutrients like B12, selenium, and zinc, among others.
"With all these great benefits, it's no wonder shrimp continues to reign as the #1 consumed seafood in America," said Dashiell.

So in honor of Lent, and all who are seeking great tasting protein alternatives this season, The Shrimp Council is pleased to offer great-tasting shrimp recipes for all occasions.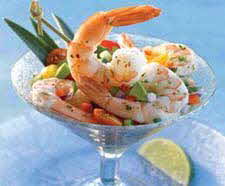 RECIPES
SHRIMP CEVICHE RECIPE
Number of Servings: 2

Ingredients:
~ 1 lb OLA! Cooked Peeled & Deveined Shrimp
~ 3 lemons, juiced
~ 3 limes, juiced
~ 1/2 cup cucumber, peeled, seeded and diced into 1/4-inch pieces
~ 1/2 cup red onion, finely chopped
~ 1 serrano chile, seeded and finely chopped
~ 1 cup seeded and diced tomatoes
~ 1 avocado, peeled, seeded, and chopped into 1/2-inch pieces
~ 1/2 bunch cilantro roughly chopped, plus leaves for garnish
Instructions:
Defrost and drain shrimp. Transfer to a bowl. Add lime, and lemon juices. Stir in cucumber, red onion and Serrano chile.
Refrigerate for 1 hour.

Stir in tomato, avocado and chopped cilantro. Mix gently, taste and season with salt.
Allow to sit at room temperature for about 20 minutes before serving.

To Serve: Spoon ceviche into martini glasses or small bowls.
Garnish with sprigs of cilantro and slices of lime.
Serve with tortilla chips or fried plantain strips.
Source: Sea Port Products Corporation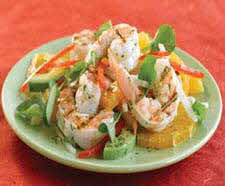 TROPICAL SHRIMP SALAD
WITH LIME-CILANTRO DRESSING
Number of Servings: 4

Ingredients (shrimp and salad):
~ 1 lb OLA! Raw Peeled & Deveined Shrimp
~ 2 garlic cloves (minced)
~ 4 tablespoons olive oil
~ 1/2 lb mixed greens
~ 1 ripe avocado cut in slices
~ 1 orange, peeled and cut in slices
~ 1 jicama, peeled and cut Julianne style
~ 1 red pepper cut Julianne style

Ingredients (Lime Cilantro Dressing):
~ 2 limes (juice)
~ 1/2 cup fresh cilantro, chopped
~ 2 garlic cloves, minced
~ 1/2 cup olive oil
~ pinch oregano

Instructions:
Shrimp: Whisk together garlic and olive oil in large bowl. Add Shrimp and toss to coat. Marinate 1 hour. Grill Shrimp 3 minutes on each side. Set aside.

Dressing: Place all ingredients in a blender. Blend on low speed until smooth.

Salad: Toss together mixed greens, avocado, orange slices, jicama, red pepper and 1/2 of the lime-cilantro dressing.

To serve: Divide salad on 4 plates and place 4 grilled shrimp on top of each salad. Drizzle remaining lime-cilantro dressing over top of shrimp.

Recipe and Image Courtesy of The Shrimp Council and Sea Port Products Corporation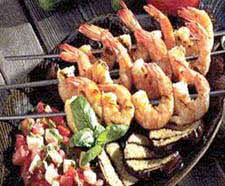 CHARCOAL GRILLED SHRIMP
Number of Servings: 30 kebabs

Ingredients:
~ 2 pounds large shrimp in the shell
~ 1/3 cup safflower oil
~ 1/2 cup fresh lime juice
~ 3 tablespoons dry white wine or vermouth
~ 1 tablespoon minced shallots or green onions (white part only)
~ 1 clove garlic minced
~ 1 teaspoon salt
~ 1 1/2 teaspoons minced fresh dill or 1/2 teaspoon dried
~ several dashes Tabasco sauce

Instructions:
Place shrimp in a shallow ceramic or glass baking dish.
Combine remaining ingredients and pour over shrimp. Cover and chill several hours or overnight.
Drain shrimp and reserve marinade.

Thread on skewers or place in a wire grill basket.
Grill shrimp over hot coals, turning and brushing with reserved marinade, until pink and cooked through, about 8-10 minutes.
Serve with wooden picks.

Recipe and Image Courtesy of The Shrimp Council
For these recipes and many more, please visit www.eatshrimp.com