KEY WEST MARGARITA GROUPER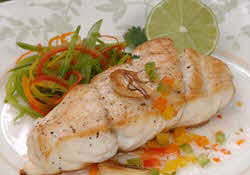 Yield: 4 servings

Ingredients
• 4 6-ounce Florida grouper fillets
• 1/3 cup tequila
• 1/2 cup orange liqueur
• 3/4 cup fresh Florida lime juice
• 1 teaspoon salt
• 3 cloves Florida garlic, peeled and chopped
• 4 tablespoons olive oil
• 3 medium Florida tomatoes, diced
• 1 medium Florida onion, chopped
• 1 small Florida jalapeno, seeded and minced
• 4 tablespoons chopped fresh Florida cilantro
• 1 pinch white sugar
• salt to taste
• 1 tablespoon olive oil
• ground black pepper to taste

Preparation
Place fillets in a shallow baking dish.

In a bowl, stir together the tequila, orange liqueur, lime juice, 1 teaspoon salt, garlic, and olive oil.

Reserve 1/2 cup marinade and set aside. Pour remaining marinade over fillets; cover and refrigerate for 1/2 hour turning the fillets once.

For salsa, combine the tomatoes, onion, jalapeno, cilantro, and sugar in a medium bowl; season to taste with salt and set aside.

Preheat the grill on medium-high heat.

Remove fillets from marinade, brush tops with oil and season with black pepper. Grill fillets for 4 to 5 minutes per side until center is opaque and meat flakes easily with a fork.

Transfer fillets to serving plates.

In a small saucepan, heat reserved marinade to a simmer; remove from heat and set aside.
Drizzle warm marinade over the fillets and serve with salsa.

Nutritional Value Per Serving:
With Salsa: Calories 508, Calories From Fat 185, Total Fat 20g, Saturated Fat 3g, Trans Fatty Acid 0g, Cholesterol 95mg, Total Carbohydrates 14g, Protein 52g, Omega 3 Fatty Acid 0.79g

Recipe and photo: Florida Department of Agriculture and Consumer Services. www.fl-seafood.com