INTERVIEW WITH
EXECUTIVE CHEF DAVID F脡AU
A Chef James, FoodReference.com interview with Executive Chef David F茅au of the Patina Restaurant Group's Cafe Pinot in downtown Los Angeles. March, 2007

CHEF JAMES: Why did you decide to pursue a career with food? Can you tell us where your interest in the field began and a little bit about how your career has unfolded?

CHEF DAVID F脡AU: I grew up in the kitchen cooking with my mother in France. With my father farming throughout the year, I was constantly surrounded by fresh produce. I was fortunate enough to pick my own vegetables and prepare them throughout my childhood, it gave me a sense of purpose and excitement to be able to till the land and create something nourishing to set on the table each night. Today, I enjoy cooking more than ever. My inspiration comes simply from each day's fresh produce and the endless possibilities of what they may become.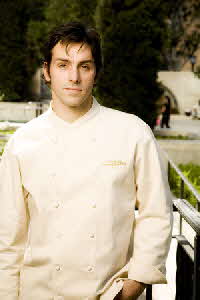 CHEF JAMES: What do you enjoy most about your work?

CHEF DAVID F脡AU: I do not work, I perform every day. It's like being on a stage, the rush and excitement of new challenges and how each day is different than the next is what I enjoy the most.


CHEF JAMES: What are your greatest stresses?
CHEF DAVID F脡AU: I think that service time is the greatest stress of the day-to-day. I think of it as an orchestra, we're performing a concert, delivering food that's either hot or cold, each with a different design and method of preparation. This routine, which differs daily, starts with the beginning of service to the end, when the restaurant closes, so you could say that the "performance" time is quite lengthy.


CHEF JAMES: Your greatest Joys?

CHEF DAVID F脡AU: Connecting with guests on a level deeper than just the food before them. I take pleasure in knowing that the produce that came straight from a farm just that morning goes through my hands and is transformed into a dish that is set before each guest, as they are about to indulge in whatever creation was inspired by the earth just a few hours before.


CHEF JAMES: Do you have any comment on the use of real cork, plastic cork or screw caps on wine?

CHEF DAVID F脡AU: I am very sensitive about nature. If there is a solution to preserve cork trees without further polluting the earth, then why not?


CHEF JAMES: Are Americans in general feeling more comfortable when ordering wines at a restaurant?

CHEF DAVID F脡AU: I would say that there are definitely more "wine lovers" in America than ever. This may be because of the democratization of wineries opening up in many states and also a massive import from the old worlds of wine.


CHEF JAMES: Do culinary schools devote enough time to wine education?

CHEF DAVID F脡AU: There are a few good programs but not enough concerning wine education. Unfortunately there is also a lot of non-professional information out there on the web that lists incorrect information.


CHEF JAMES: Do you have any strong feelings on whether it is better to get a culinary education first, or is learning 'on the job' still a viable career path for aspiring chefs? What advice would you give to someone in high school who would like to pursue a culinary career?

CHEF DAVID F脡AU: I agree that everyone needs to have basic culinary education from a school program. Learning culinary techniques in an educational environment gives you an entirely different skill set from someone who was not exposed to that. I liken it to an architect that never went to architecture school – they, like the buildings they create, need a base and foundation.


CHEF JAMES: What are some of the qualities that you feel a successful chef should have?

CHEF DAVID F脡AU: Respect would be the first, then humility, consistency, perfectionism, and creativity.


CHEF JAMES: What 3 cookbooks or culinary books would you pick to save in a time capsule to be opened 500 years from now?

CHEF DAVID F脡AU: Instead, I selected three different stages of culinary evolution:
The time from Taillevent through Escoffier.
The time from Paul Bocuse through Alain Chapel.
and Ferran Adrian on his own because he has put so much into studying the science of cooking.


CHEF JAMES: If you were stranded on a desert island for a year surviving on coconuts and seaweed, what would be the first meal you would like to eat after you were rescued? The first beverage?

CHEF DAVID F脡AU: A piece of bread would be the first thing that I'd look for, and then a glass of red wine. Then I'd finally get around to that eight-course meal.

A short biography of Chef David F茅au:
Prior to bringing his culinary excellence to downtown Los Angeles' Cafe Pinot, one of the legendary Patina Restaurant Group venues, executive chef David F茅au earned his degree in classic cuisine at L'Ecole Hoteliere, Helene Boucher in his hometown of Le Mans, France. After fine-tuning his culinary and managerial skills under the guidance of famed chef Guy Savoy, he made his way to New York to oversee one of the city's longtime favorites, Lut猫ce. After revitalizing the flagship restaurant in NYC, F茅au spearheaded the development of the sister restaurant in Las Vegas, earning both locations multiple 4-star ratings from Mobil and Forbes Magazine. In 2006, F茅au became the executive chef for Cafe Pinot, bringing his vision of spa cuisine to life. "For me we don't need medicine; we need good food, good wine and good company."

Patina Restaurant Group's Cafe Pinot in downtown Los Angeles.
With its unique view of the urban skyline and romantic garden ambience, Cafe Pinot boasts one of downtown L.A.'s most cosmopolitan settings. The restaurant features exquisite patio and indoor dining, offering the perfect setting to complement an evening at the Music Center or Staples Center. Light, sophisticated seafood dishes dominate the contemporary Californian menu, and the scenic ambience makes it an ideal setting for weddings and special events.