See also: History of Tea; Tea Around the World; Tea Bags;
New York's First Fashionable Beverage; Quotes about Tea
TEA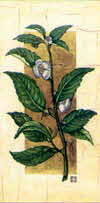 The most popular beverage in the world is tea, and beer is number two. However, in England and Ireland, beer is the most popular beverage.

U.S. Tea sales for 2007 were about $6.85 billion, compared to about $1.8 billion per year in the early 1990s.

Tea was designated as the Official Hospitality Beverage of South Carolina in 1995.

Top Tea consuming countries, per capita tea consumption 2005:
• Ireland 2.96 cups
• Libya 2.92 cups
• Qatar 2.89 cups
• Iraq 2.42 cups
• Kuwait 2.29 cups
• Britain 2.24 cups
• (U.S. per capita consumption is about 1/3 cup)
International Tea Committee (Washington Post Weekly 10/31/05)

In mid-19th century America, Harper's magazine reported:
"A country lady received a pound of tea from a fashionable friend in the city, and supposing it to be a newly-introduced vegetable, boiled the whole parcel, and had it served up for dinner, throwing away the liquor of course."

APPROXIMATE CAFFEINE CONTENT OF TEA (5 oz cup)
• 1 minute brew - 10-35 mg
• 3 minute brew - 20-45 mg
• Instant Tea - 12-30 mg