See also: Article on Radishes; Radish Tips; Radish Quotes
RADISH TRIVIA

Americans eat 400 million pounds of radishes each year, most of which is consumed in salads.

Radishes are root vegetables that resemble beets or turnips in appearance and texture, but have a distinct flavor. It is the root of a plant classified in the mustard family.
CDC.gov - 5 a Day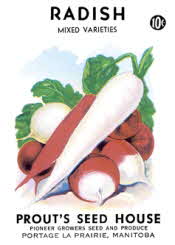 Radishes were first cultivated thousands of years ago in China, then in Egypt and Greece. Radishes were so highly regarded in Greece that gold replicas were made. The radish did not make its way to England until approximately 1548. By 1629 they were being cultivated in Massachusetts.

The ancient Egyptians used radish seed oil before olive oil was known.

Pliny thought the radish was "a vulgar article of the diet" because of its "remarkable power of causing flatulence and eructation."
Radishes were a common breakfast item for the Pennsylvania Dutch. (They still are in Japan).

In Oaxaca, Mexico, Christmas Eve is also the Night of the Radishes, when large radishes are cut into animal shapes.

Daikon is a variety of radish also known as Japanese radish, Chinese radish and Satsuma radish. They are white with a milder flavor than the small red radish, and can grow up to 3 feet long and weigh up to 100 pounds, although they are usually harvested at 1 to 5 pounds. Daikon can be eaten raw in salad, pickled, or in stir fries, soups and stews. They have a pleasant, sweet and zesty flavor with a mild bite.
There are 220 people in the U.S. listed on whitepages.com with the last name 'Radish'
(Mark Morton, 'Gastronomica', Fall 2010)