RADICCHIO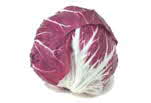 Radicchio (a red variety of chicory) was first grown commercially in this country in 1981 in California.

Radicchio looks like red cabbage, but it's actually a chicory family member. This leaf is typically used for an accent in salads because of its steep cost as most radicchio lettuce arrives from Italy.

Lightly crisp with a slightly bitter taste, radicchio's shiny, cupped leaves are dark burgundy with contrasting white ribs. The tightly packed heads range in size from a baseball to a softball.
It is a favorite in Italy and has been cultivated there since about the 16th century.